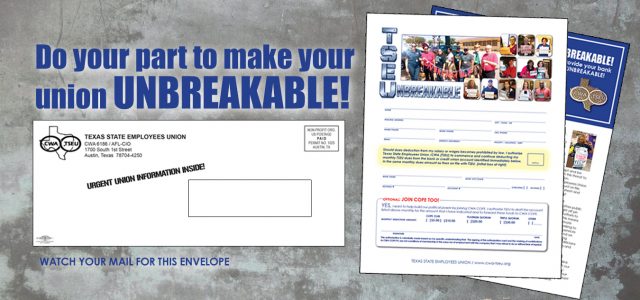 KEEP YOUR UNION UNBREAKABLE!
Sometime this week, you will be receiving an important letter from your union regarding your membership. If you get this letter, it means you still need to provide your bank […]
Recent Stories
Privatization pilot draws scrutiny, calls for delayed roll-out grow The pilot for privatization of Family Based Safety Services in El Paso has drawn the attention of local lawmakers, thanks to […]
TAKE ACTION
Calling all family, friends, and supporters of state employees! If you are not a state employee or retiree and you want to be involved in TSEU's fight for quality state […]
Member Testimonials
What does TSEU mean to you? We want to know! Submit your testimonial along with a picture that will appear in our TSEU MEMBER TESTIMONIALS. Let others know why you […]

Pictures, quotes and more CLICK HERE  to view SOMOS / WE ARE TSEU blog. you will be leaving this site

I joined the union because I want a voice.  Whether it's pay and benefits or workloads or the overall way they run our state – the employees who do the […]

I got involved with the union because I wanted to be treated with dignity on the job. I hope every state employee will join TSEU because we need to save […]

I signed up because all the issues the union was fighting for were the issues that I was concerned about: caseloads, pay raises, pensions, and health care. The union is […]

I joined TSEU to help myself and fellow state employees get better pay and benefits. Every member increases our power to promote change for the betterment of all state workers.