TSEU Organizer Contact: MYKO M. GEDUTIS in the Houston TSEU office: (713)661-9030
We are TSEU members who work in the Department of Family Protective Services. We work in CPS, APS, and CCL. We are building a strong union in our agency to fight for: better pay and benefits to attract and retain dedicated, experienced staff; lower caseloads; stopping privatization.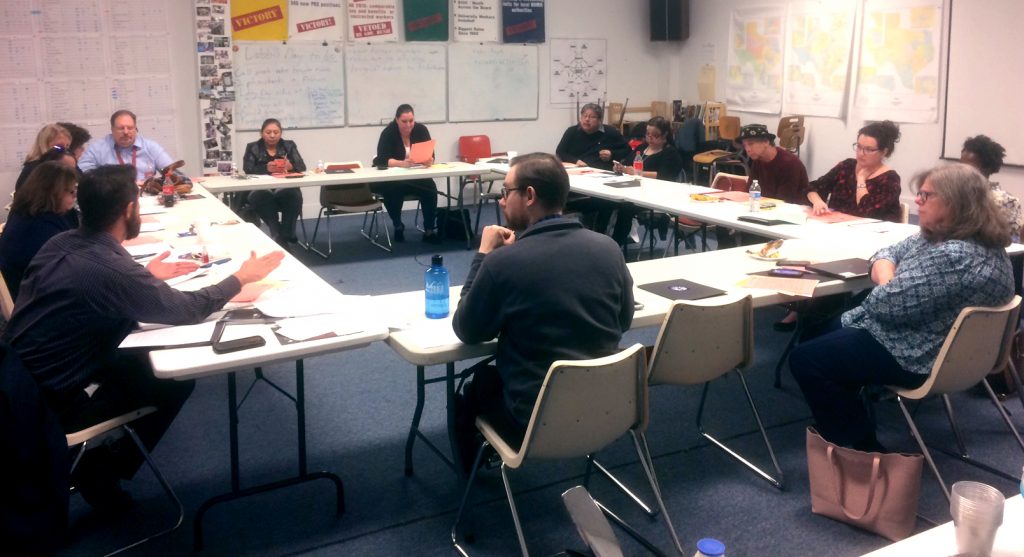 ---

[SUMMER/FALL 2018 ] Download the FPS/State Employee Workload survey
The TSEU / DFPS Caucus is conducting a workload survey to gather information about current caseload/workload levels. Results and analysis from the brief survey will be used to provide an accurate picture to elected and appointed officials about the reality faced by DFPS employees everyday. All employees are encouraged to complete the survey.
---
[JUNE 2018 ] Private Contractor for Region 2 announced
On Monday, June 4th, DFPS announced that a Community Based Care (CBC) contract with New Horizons Ranch and Texas Family Initiative has been finalized. The two contractors will operate under the name "2Ingage", which will serve as the Single Source Continuum Contractor (SSCC) for all of Region 2. Under the Community Based Care model, 2Ingage will be responsible for maintaining the foster care network, coordinating all services and providing all case management services for children in state care.
---
[JANUARY 2018 ] Pressure builds on DFPS – "reduce caseloads and stop contracting out!"
The pilot for privatization of Family Based Safety Services in El Paso has drawn the attention of local lawmakers, thanks to the work of TSEU Members. State Representatives from El Paso have asked for a delay in the transfer of cases to the private contractor, Pathways, until a transition plan is developed and released by the agency. DFPS announced the contract was signed on January 10th, with Pathways slated to start receiving new FBSS cases March 1st. Prior to entering the contract, Pathways has not operated in El Paso or Region 10, and has no staff or infrastructure in the area. [read more]
---
[OCTOBER 2017 ] Contractor failures gaining national attention as Texas pushes for even more privatization
As state leaders continue to tout the plan to privatize most of CPS in Texas, elected leaders in other states and in the US Senate are taking a critical look at the work of private contractors. Two states that have privatized child welfare systems, Kansas and Florida, are dealing with private agency failures and largess. A 2-year study of private contractors in all 50 states revealed a familiar pattern of states not holding private agencies accountable.
[read more]
---
[AUGUST 5, 2017 ] FPS Caucus meets in Austin, discusses recent legislative session, staffing levels, and growing TSEU at FPS
For a full recap of this event, contact Myko Gedutis in the Houston TSEU office (713.661.9030).
In attendance were: Courtney Tiffany; Vanessa Brown; Suzanne Davis; Amanda Petts; Sonia Samples; Derek Brozowski; Michael Edwards; Louis Ackerman; Marsi Patronella; Heather Barefield; Angel Lopez; Katherine Arredondo; Claudia Canales Esquivel; Eunice De Leon
---
[JULY 2017 ] Setting the stage for the next tragedy in APS, CCL
While legislators spent much time and energy on Child Protective Services issues, the same problems that led to numerous tragedies in one part of our agency will continue to fester and worsen in Adult Protective Services and Child Care Licensing. Both APS and CCL recently announced that positions would be cut, mostly from vacant positions caused by Gov. Abbott's hiring freeze. [read more]
---
[MAY 2017 ] CPS and the 85th Texas Legislature AND the future of DFPS
What is the future of DFPS? and a look back at CPS and the recent legislative session [read more]
---
[FEBRUARY 2017 ] FPS Caucus holds 'Mini Lobby Day'
attendance list, picture and key issues discussed [read more]
---
[OCTOBER 2016 – TSEU/FPS NewsBulletin] FPS workers say "we need a raise" / State Officials Say "we need two more compensation studies"

In another rebuke of common sense, the low pay in DFPS is being ignored and downplayed in the budget request for the next two years and in hearings at the Capitol. The turnover crisis in our agency is bad for the Texans we serve, and is costly for all Texans because of the millions of dollars spent to train new employees.
Agency leaders have long claimed low pay doesn't impact turnover, however employee responses to the agency's own annual Survey of Employee Engagement indicate that low pay is the top concern (see charts below). Meanwhile, elected officials are being told that updating technology and more training will fix the turnover crisis we see everyday.
[view agency charts and TSEU's what to do now]
---

[SEPTEMBER 2016 – TSEU/FPS NewsBulletin]

FPS budget request excludes real pay raises, seeks rapid expansion of Foster Care Redesign

The recently released Legislative Appropriations Request (LAR) from DFPS establishes Agency Administrators priorities for the next Legislative Session. The LAR is an important step in the process of setting the budget for the next two fiscal years. Legislators will use the LAR as a starting point to determine what to fund or not to fund in the final State Budget. [READ MORE]
---
.
[SUMMER

/FALL 2016] Our message to elected leaders is growing louder and stronger:
Lower caseloads and increase pay to improve services AND protect vulnerable Texans – Internal reforms, LAR falls short of significant improvements
The Texas Department of Family and Protective Services is plagued by high caseloads that prevent staff from spending the time they need with each child, family, or vulnerable adult. As a result, Texans in need of help often fall through the cracks, sometimes with tragic consequences. Unfortunately, details of high profile cases that get media attention vary, but they often share similar patterns of missed opportunities to take action. In December 2015, the ruling from US District Judge Janis Graham Jack focused even more attention on the systemic problems that prevent DFPS from effectively protecting children that are in custody of the State of Texas. [READ MORE]
.
TSEU wants to know:
WHAT'S YOUR CASELOAD?

---
Federal Court ruling closes the case:
OUR AGENCY NEEDS SAFE CASELOADS NOW
Our agency needs safe caseloads now! There are no short cuts to improving services to vulnerable Texans. Texans deserve better. During the next Legislative Session, we need legislation and funding to lower caseloads and establish caseload standards in every part of the Department of Family and Protective Services!
TSEU members presented this analysis to legislators and staff at the capitol during FPS Day of Action; held this past Spring 2016. DOWNLOAD FULL DOCUMENT
.
.