TSEU Organizer Contact:
AMY ZACHMEYER
in the Houston TSEU office (713)661-9030

We are TSEU members who work in TDCJ Parole Division. We are parole officers, clerical staff, substance abuse counselors, and support staff. We are building a strong union in our agency to fight for:  Better pay and benefits to attract and retain quality staff and caseload standards.
GET INVOLVED TODAY!.
.
---

For a full recap of these meetings, as well as information about upcoming statewide events or those in your area, please contact TSEU Parole Organizer Amy Zachmeyer in the Houston TSEU office (713.661.9030)
[AUGUST 12, 2017] Activist from hold statewide TDCJ caucus meeting. On the agenda: a review of the last legislative session and the impact to our agency, our ongoing fight to reduce caseloads and secure justice on the job for ALL TDCJ staff, and growing the union at TDCJ facilities and among Parole workers.
[In attendance] Latoya Eaden, Lyla Woods, Jaunita Golston, Matthew Comeau, Micah Haley, Lillie Cooper, Jackie Dickerson
.
[MARCH 22, 2017] TDCJ Parole Caucus holds 'mini Lobby Day', pushes for TDCJ caucus issues at the Capitol!
[in attendance] Micah Haley, Jackie Dickerson, Derek Webb (Dallas); Daphine Brown-Jack (Houston) Amador Lopez (San Antonio)
Key Caucus issues members brought up with elected officials and staff at the Capitol:
Raising staffing levels to reduce caseloads
Career ladder for clerical/support staff
CLICK HERE for a detailed listing of TDCJ-Parole legislative goals.
---
[SUMMER/FALL 2016] Parole Officers need REAL caseload reform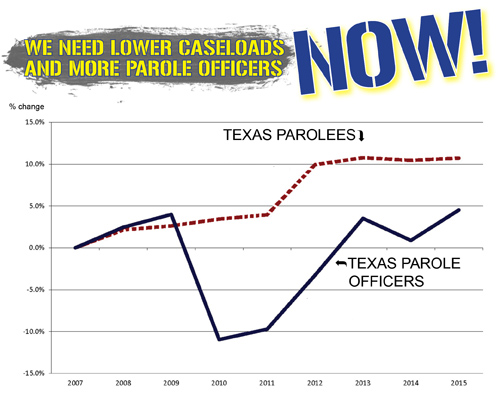 TSEU members are leading the charge for increasing staffing levels and lowering caseloads in TDCJ Parole Division. State lawmakers are the key decision-makers who we must push to increase funding for our agency to make this happen. To convince them that high caseloads are a real problem that is affecting our ability to properly supervise parolees, we need to have accurate caseload information to share with them.
TSEU wants to know:
WHAT'S YOUR CASELOAD?