TSEU Organizer Contact:
KEITH STENSON
in the Dallas TSEU office (214)942-4305

We are TSEU members who work in TDCJ Parole Division. We are parole officers, clerical staff, substance abuse counselors, and support staff. We are building a strong union in our agency to fight for:  Better pay and benefits to attract and retain quality staff and caseload standards.
GET INVOLVED TODAY!.
.
---
[SUMMER/FALL 2016] Parole Officers need REAL caseload reform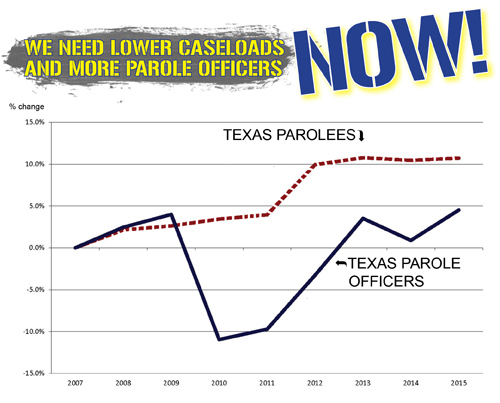 TSEU members are leading the charge for increasing staffing levels and lowering caseloads in TDCJ Parole Division. State lawmakers are the key decision-makers who we must push to increase funding for our agency to make this happen. To convince them that high caseloads are a real problem that is affecting our ability to properly supervise parolees, we need to have accurate caseload information to share with them.
TSEU wants to know:
WHAT'S YOUR CASELOAD?