TSEU Organizer contact:
RON DAY
in the Austin TSEU office (512)448-4225
We are TSEU members working at DSHS State Hospitals and DADS State Supported Living Centers. We're building a strong union in our facilities to fight for: better pay and benefits to attract and retain quality staff; increased staffing levels; stopping privatization and closures; a fair grievance procedure with an appeal step outside the agency.
---
.
[MARCH 8, 2017] Caucus members hold Mini-Lobby Day.

On Wednesday, March 8, TSEU activists representing a number of the state's SSLC and State Hospital facilities met in Austin for 'Mini' Lobby Day. Our goal: to push for our caucus legislative agenda as well as our overall state employee agenda. After a brief strategy session at the Austin TSEU office, members went to the capitol to meet with legislators and staff. Details coming soon, for now, see our demands on the SSLC Legislative Goals page.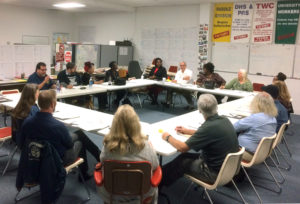 ---
[FEBRUARY 15, 2017] 'High Injury Risk' pay on the table for some workers!

State Representative Toni Rose files House Bill 1932 to provide "high injury risk" pay for employees at State Support Living Centers and State Hospitals.  read more
---