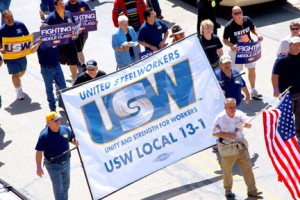 Our union brothers and sisters working in 5 area refineries have gone out on strike over health and safety issues, overtime demands and the contracting out of their jobs. While negotiations continue between Shell and the United Steel Workers (USW), striking workers need our help.
To keep pressure on the companies and to raise community awareness about the strike, striking workers have continued to picket outside refinery gates. TSEU members can help by joining our USW brothers & sisters on the picket line. On Saturday, February 28th at 10am we'll be meeting at the USW Hall in Pasadena, located at 311 Pasadena Blvd.
In 2011, when state services and state employees and retirees faced serious threats because of a looming budget crisis, USW members from these same refineries joined TSEU members for an incredible Lobby Day march and rally at the Capitol. USW members were also very involved in the campaign to keep UTMB open in Galveston after Hurricane Ike in 2008. Let's stand up for them too, and show our support!
Donations of baby food and diapers are also needed. Donations can be dropped off at the Houston TSEU office or the USW Hall at 311 Pasadena Blvd.