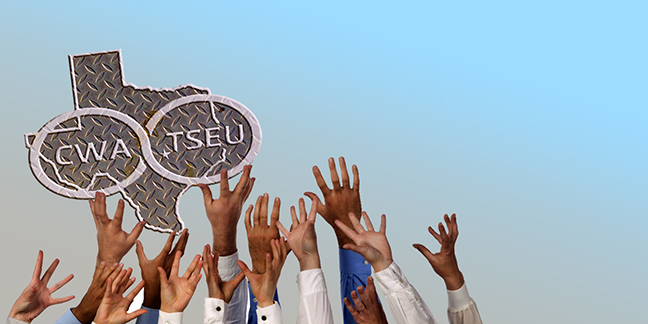 Keep Human Services STRONG! Our HHSC offices, already straining under heavy workloads, are being slammed by the huge numbers of Texans in need of benefits. Since July of this year, HHSC lost nearly 600 eligibility workers across the state who were not replaced because of the Governor's hiring freeze. That represents an 11% reduction in eligibility staff. To make things worse pay is still too LOW, and the grievance procedure was taken away. We are not going to take this lying down.
TSEU members across the state are organizing and mobilizing to stop this assault on our rights. This month, we are working with activists across the state to raise awareness of workplace issues and push back against the attacks on Human Services Workers.
You don't have to wait for an organizer to come to your office to get involved in the blitz. Starting November 27, contact the Austin TSEU office for material including recent newsletters, HHSC-specific fliers and other TSEU literature for distribution around your office! get involved and help make a difference!
We will be adding dates to the organizing blitz all the time. For now, here's a few that we know about:
CENTRAL TEXAS:
10205 N Lamar / Tue, Nov 28 / 9:00am -2pm / Lobby by elevator
Brown-Heatley / Wed, Nov 29 / 9:00am -2:00pm / Cafeteria
Winters Bldg. / Thur, Nov 30 / 9:00am -2:00pm / Outside Cafeteria
Metropolis / Friday, Dec 1 / 9:00am -2:00pm / Break Room
Killeen HHSC / Thur, Dec 7 / 11:00am-2:00pm / Break Room
Howard Lane / Friday, Dec 8 / 9:00am -2:00pm / Break Room
Rutherford / Tuesday, Dec12 / 9:00am -2:00pm / Break Room
1100 49th St. / Wed, Dec13 / 9:00am -2:00pm / Maria's Deli
Temple HHSC / Wed, Dec 13 / 11:00am-2:00pm / Break Room
Capitol Plaza / Thur, Dec 14 / 9:00am -2:00pm / Break Room
Bryan HHSC / Wed, Dec 20 / 11:00-1:00pm / Break Room