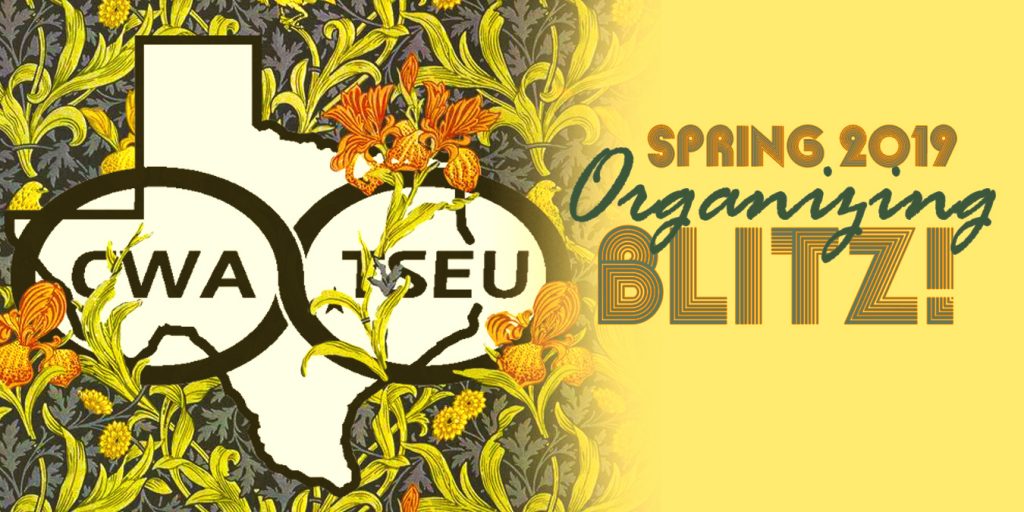 So what is an "organizing blitz?"
This is a designated time when teams of TSEU activists and organizers will plan major organizing drives in state offices and locations around the state. We will be planning big events involving lots of members in order to recruit more members, grow our union, train on-the-job activists and organizers, and win our pay raise/COLA fight in the Legislature!
Why is this happening in May?
Those two weeks in May could very well be the time when lawmakers in Austin are putting the final touches on the state's budget for the next two years. This will be our last chance to make a final push to win on our issues before the budget is finalized. By signing up hundreds of new members into the union and involving them in the fight with phone calls postcards we can make a big difference in the outcome of this Legislative Session. This will also be the time when voting begins in the ERS Board of Trustee elections. This will be a key time for us to make a big push to elect Cora Bennett to the ERS Board.
How do I get involved? 
All TSEU members are asked to participate either in a big way or small ways. Contact your local Organizing Committee, activist, organizer, local TSEU office, or 512-448-4225 to find out how you can get involved and make our union stronger!