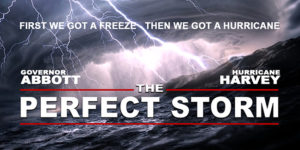 In February, Governor Greg Abbott called for a 7-month hiring freeze in most state agencies, including HHSC eligibility offices where Texans in need can apply for Food Stamps (SNAP), TANF, and Medicaid benefits. With no new eligibility workers being hired or trained to replace any employees who left the agency, HHSC offices already straining under heavy workloads are being slammed by the huge numbers of Texans in need of emergency D-SNAP (disaster SNAP) benefits. From the start of the hiring freeze to July of this year, HHSC lost nearly 600 eligibility workers statewide who were not replaced. That represents an 11% reduction in eligibility staff. To compound the problems for front-line workers and drive morale even lower, lawmakers refused to provide any employee pay raises for the 2018-2019 biennium, and agency leaders eliminated the employee grievance procedure without warning in May.
First we got a freeze, then we got a hurricane!
Although the Governor's hiring freeze officially ended on September 1st, new staff won't be trained and ready to work for months. Meanwhile, those 600 missing eligibility workers mean it's on the shoulders of the rest of us in HHSC to meet the bigger level of need. The staffing crisis created by the Governor's hiring freeze has left our agency ill-prepared to deal with the urgent need of Harvey's victims. In an email announcement, agency leaders announced mandatory overtime for all eligibility workers around the state to fill the gap.
Many eligibility offices in the Gulf Coast region have been damaged or closed since the storm hit. This has forced the applicants still in those areas to rely on eligibility workers in other parts of the state to work their cases. And many of the workers in those flooded offices have to pull the double duty of rebuilding their homes while working the newly mandated overtime hours in recently formed temporary offices.
Union members are calling on Governor Abbott to work with Texas lawmakers to tap the Rainy Day Fund to immediately fill the 600 vacancies in eligibility offices and provide emergency pay raises to keep tenured staff from quitting the agency