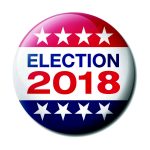 TSEU members and COPE committees were busy this primary season. Across the state, COPE members began meeting with candidates in key primary districts as early as November to discuss state employee and retiree issues. TSEU members then endorsed and worked with these candidates to win their primary elections and secure their names in the general election coming up in November. At phone banks and block walks our members increased voter turnout and name recognition for our candidates.
In the North Texas State Senate races, TSEU-endorsed candidates Beverly Powell (SD 10) and Nathan Johnson (SD 16) won their primaries. On the State House side, our members worked tirelessly to defend State Rep. Mary Gonzalez in HD 75 in El Paso. With TSEU support, Rep. Gonzalez pulled out a big win with 70% of the vote. TSEU-backed State Reps. Eric Johnson, Phillip Cortez, and Ina Minjarez also won their primaries. TSEU-endorsed challengers Terry Meza (HD 105), Joanna Cattanach (HD 108), Rhetta Bowers (HD 113), and Julie Johnson (HD 115) were victorious as well.
Some TSEU-backed candidates didn't fare as well, however. Rita Lucido defeated Fran Watson to run against union-busting State Senator Joan Huffman in SD 17, Erin Zwiener defeated Rebecca Bell-Metereau to challenge Ken Strange for HD 45. State Rep. Tomas Uresti also lost his runoff to Leo Pacheco, who will face a general election challenger in November in San Antonio's HD 118. TSEU also lost two long-time allies in the State House primaries- Reps. Roberto Alonzo(HD 104) and Rene Oliveira (HD 37). Their advocacy and service on behalf of state workers will be missed in the Legislature.
On the Republican side of the runoffs, Speaker of the House Joe Straus and his allies were the clear victors. Speaker Straus and his allies in the House have often been voices of reason in the face of extreme, anti-worker positions taken by the House Freedom Caucus, Empower Texans, Gov. Greg Abbott and Lt. Gov. Dan Patrick. Straus-backed Steve Allison defeated empower Texans candidate Matt Beebe in HD 121 to fill his seat; Cody Harris defeated Thomas McNutt (who was backed by Gov. Abbot) to replace Rep. Byron Cook in HD 8; the more moderate Reggie Smith defeated Brent Lawson to run for HD 62; in HD 13 Ben Leman defeated Jill Wolfskill who had pledged to join the House Freedom Caucus if elected; Keith Bell defeated Empower Texans-endorsed Stuart Spitzer in HD 4 to replace Lance Gooden.
The primary results overall bode well for state employee/retiree prospects in the upcoming general elections in November and the next legislative session, despite the loss of several key allies in the House. The work that TSEU activists did in the primaries paid off, and we must continue building our union's political power through COPE so that we can win on our issues in 2019! If you have not already done so, join COPE- see form on page 6!
---
As election activities begin to build, keep track of blockwalks, phonebanks and other voter mobilization efforts on our TSEU Election 2018 page. Please note, we are currently updating some information on this page and will be adding new information as needed.  Please check back or contact the Austin TSEU office at 512.448.4225.