Union members' votes are in, and the dues increase measure was overwhelmingly approved. By a margin of 80% to 20%, TSEU members overwhelmingly voted to approve the proposed dues increase, which had already been approved by the TSEU Executive Board and General Assembly. Now, it's time to for all current TSEU members to increase their dues to the newly approved levels. To find out how to increase your dues to the new levels, contact your nearest TSEU office, activist, or organizer, or call our main office in Austin at 512-448-4225 (more information is below).
  We have won many important victories over the past decade, but there is still a lot of work to do. After ten years without any changes to TSEU membership dues, this dues change was urgently needed to make sure that TSEU has the resources to stop attacks on state employees and state services, and to win improvements in pay, health care, pensions, staffing, and working conditions.
  Everything we do, from basic organizing to Lobby Day, takes resources, and every cost, from printing to bus rental, is increasing. It will take more resources to keep on winning.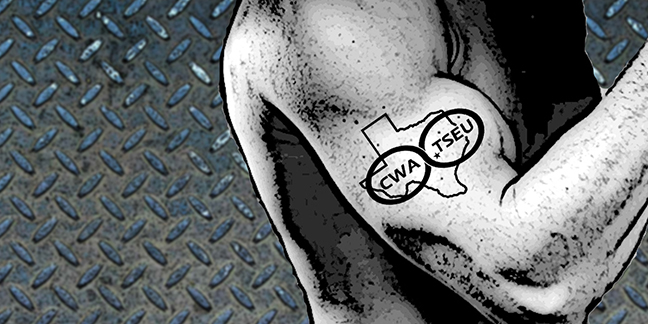 The Facts
Our union's dues were last increased in 2009. This is the longest
time our union has gone without a dues increase.
Since our last dues increase, costs for office rents, property taxes, staff, transportation, meeting room space and most other operating expenses have increased by tens of thousands of dollars. These increasing costs are squeezing our budget to the point that it will soon impact our ability to organize and mobilize effectively.
The new schedule will increase dues by $1-$3 per month for most members, with $5 and $7 increases for two newly created levels for those earning the highest salaries. Dues are determined by base salaries (excludes overtime, longevity, etc.).
The additional funds generated by this change will allow TSEU to throw our full strength in the fights ahead: for a REAL pay raise for all state workers, for a pension increase for retirees, to stop privatization, and many more.
UPGRADE your dues today!
Are you on bankdraft for your dues?  If your monthly dues deduction are through your bank account or credit/debit card, fill out our online DUES UPGRADE AUTHORIZATION. For verification purposes, we will need some information from you, but we will use your current banking/credit card information on file.
Are you on payroll deduction for your dues? For those TSEU members on payroll deduction, you will be required to submit a new form. Please contact your nearest TSEU office for details or contact our main office in Austin at 512.448.4225.