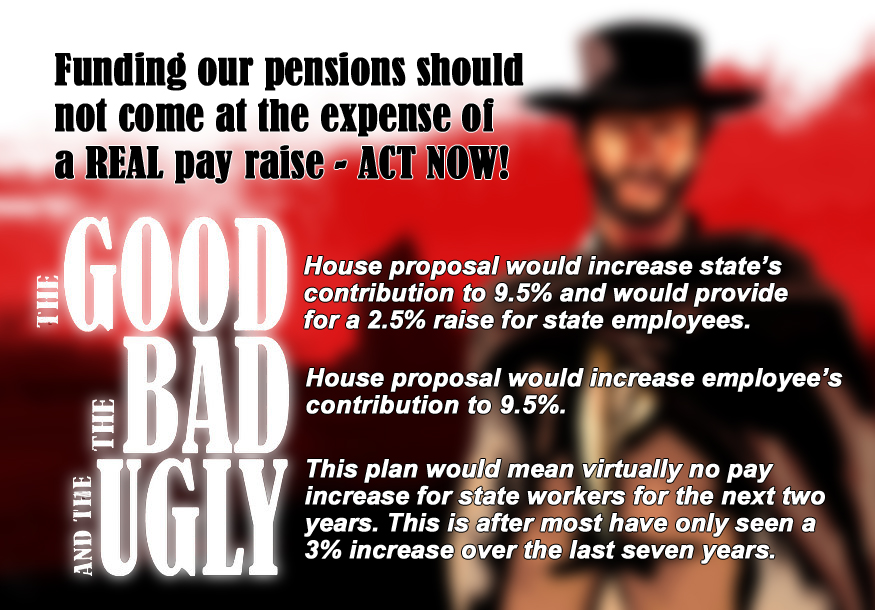 After an intense push by TSEU members across the state asking lawmakers to fully fund our pension, today, legislators from the House Appropriations Committee laid out a plan to put the ERS pension on a path to full funding. Their proposal, if passed, would:
increase the state's contribution to 9.5% of employee pay (currently at 7.5%)
increase the employee's contribution to 9.5% of pay (currently at 6.9%) in September 2015
maintain the agency contribution at .5% of employee pay
provide a 2.5% pay raise across-the-board for all state employees!
This plan would mean virtually no pay increase for all state workers for the next two years. This is after most state employees have only seen a 3% increase in pay over the last seven years. Texas can and must do better for its employees! University workers are left entirely out of the proposal.
TSEU'S POSITION:
While it's a huge step forward for lawmakers to increase the state's contribution to the fund, asking state employees to go for another two years with no real pay raise is a recipe for more turnover in our agencies as more state employees decide they can't afford to keep working for the state.
TSEU is calling on lawmakers to provide a REAL pay raise, in addition to the increased pension funding, that will actually help state employees keep up with the rising cost-of-living.
What to do now:
Make plans to attend State Employee Lobby Day on Wednesday, April 8th in Austin. You can buy your ticket HERE
.

Call the members of the House Appropriations Committee from your part of Texas (see below) and tell them:
Call ALL legislators from your region listed below, as well as the Committee Chair and Vice-Chair, if possible. Urge co-workers, friends and family to make calls as well – what affects us, affects them! Email how many calls you made to Harrison Hiner.
TELL THEM:
My name is __________________ and I'm a state employee/retiree from ___(name your agency)___. It's a huge step forward that the state has committed additional state funding for ERS. However, I'm calling to ask Representative _________________ to support a real pay raise for all state employees above the 2.5% raise which will be taken away by the increase in employee contributions to ERS. State employees need a real pay raise to catch up with the cost of the living that continues to rise for us and our families. Thank you.
Chair: Rep. John Otto– 512-463-0570
Vice Chair: Rep. Sylvester Turner– 512-463-0554
Southeast Texas
Rep. Sarah Davis– 512-463-0389
Rep. Borris Miles– 512-463-0518
Rep. Armando Walle -512-463-0924
Rep. Greg Bonnen– 512-463-0729
Rep. Rick Miller– 512-463-0710
Rep. Dade Phelan– 512-463-0706
West Texas
Rep. Marisa Marquez– 512-463-0638
Rep. Four Price– 512-463-0470
Rep. JD Sheffield– 512-463-3644
East/Northeast Texas
Rep. Bryan Hughes– 512-463-0271
Rep. Trent Ashby– 512-463-0508
Rep. Gary VanDeaver– 512-463-0692
Central Texas
Rep. Dawnna Dukes– 512-463-0506
Rep. Larry Gonzales– 512-463-0670
Rep. Donna Howard– 512-463-0631
Rep. John Raney– 512-463-0698
South Texas
Rep. Ruth Jones McClendon– 512-463-0708
Rep. Oscar Longoria– 512-463-0645
Rep. Sergio Muñoz– 512-463-0704
Rep. Justin Rodriguez– 512-463-0669
North Texas
Rep. Cindy Burkett– 512-463-0464
Rep. Helen Giddings– 512-463-0953
Rep. Giovanni Capriglione– 512-463-0690
Rep. Linda Koop– 512-463-0454