There's no sugar-coating it: Our union is under attack!
On Monday, February 13, PLEASE CALL YOUR STATE SENATOR TO VOICE YOUR CONCERN OVER SENATE BILL 13!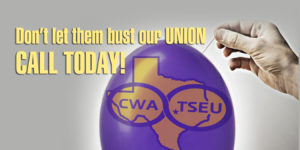 BACKGROUND: Anti-state worker and anti-union Legislators are trying to strip state employees and retirees of our 1st Amendment rights by busting our union. In the last legislative session, Senate Bill 1968, if passed, would have banned state workers and retirees from voluntarily paying our union membership dues through payroll deduction. This year we have seen the bill resurface! TODAY, February 13th, 2017, a hearing is going to be taking place to hurt our ability to have a democratic voice in the work place!
.
Call TODAY – Tell Your Senator: Vote NO – SB13
The direct dial line is 1-844-707-7906
Sample phone script:  My name is _____________ and I am a member of the Texas State Employees Union. I work/retired from ____(name of agency/university)_____ in ______(city)________. As a State worker I depend on my ability to participate in my union by utilizing payroll deduction. I feel safe and have used this payroll deduction for years. I feel this bill is a direct attack on my ability to have a voice at my work place. I'm calling to ask Senator ____________ to oppose SB 13, which singles out certain unions and would restrict my ability to advocate for issues that matter to me and the clients/students/ residence I serve.