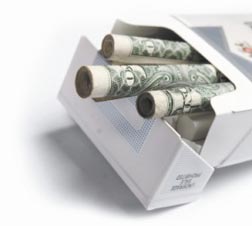 ERS is implementing a new policy regarding tobacco use. Everyone enrolled in the ERS Texas Employees Group Benefits Program (GBP) health insurance plans must certify their status as tobacco users or non-users. Beginning Sept. 1, ERS members who do not certify their tobacco-use status will be charged a monthly tobacco user premium – even if they don't use tobacco.
Under the new policy, all plan participants must certify that they and their dependents do or do not use tobacco, or be charged a premium of $30 each (up to $90 per household per month). Everyone has until August 31, 2013 to certify, to avoid incurring the additional premium for non-certification beginning in September. The new policy is based on legislation passed in the recent session and is a part of ongoing at efforts at ERS to curb the rising cost of health care.
How do you certify?
Certifying can be done online or over the phone. To complete it online, do the following steps:
Sign in to your ERS account by clicking on the "Sign In" button in the upper left hand corner of the ERS homepage at www.ers.state.tx.us (if you have not signed in before, you may need to register your account).
Under My Insurance Information, click on Tobacco User Certification.
On the Tobacco User Certification page, check "Yes" or "No" to accurately indicate your status as a tobacco user or non-user; do the same for your dependents.
Check the box that indicates you understand.
You can also contact your agency benefits coordinator or call ERS toll-free at (866)399-6908 to certify your tobacco use.
ERS has indicated that all plan participants would be able to change their tobacco user certification at any time, but until they did they would be charged the extra $30 on their monthly premium.