Please contact the AUSTIN TSEU office at 512.448.4225 for more details.
.
Attention all TSEU retirees!
R.O.C. (Retiree Organizing Committee) Meeting
Thursday, July 5  / TSEU office / 12:00noon

Take part in a discussion of retiree issues and learn what TSEU is doing to address them; like defending our pension and health benefits and winning a pension increase. We'll have a summary of the recent statewide ROC Caucus meeting and will look at ways to grow our retiree network in Central Texas. Refreshments served.
.
The Committee on Political Education
Monthly meeting
Monday, July 2  / TSEU Office / 6:00pm
The 2018 elections are HERE and with that, the ability to help reshape the state legislature – we can't miss this chance! At this month's COPE meeting will be taking a look back at the recent primary elections – our wins, losses, where we need to improve – and what lies beyond. Join COPE and get involved! Refreshments served.
Monthly Work/Pizza Party – everyone welcome!
Tuesday, July 17  / TSEU Office / 5:00-7:00pm
Show up when you can – stay as long as you want! Refreshments, light snacks and food will be provided. This is a great way to meet your fellow TSEU members while helping your union with mail-outs to members, light paperwork, and/or other activities around the office. Many hands make light (and fun) work! Contact the Austin TSEU office (512.448.4225) if you can help or just show up!
.
General Assembly Delegate Election details: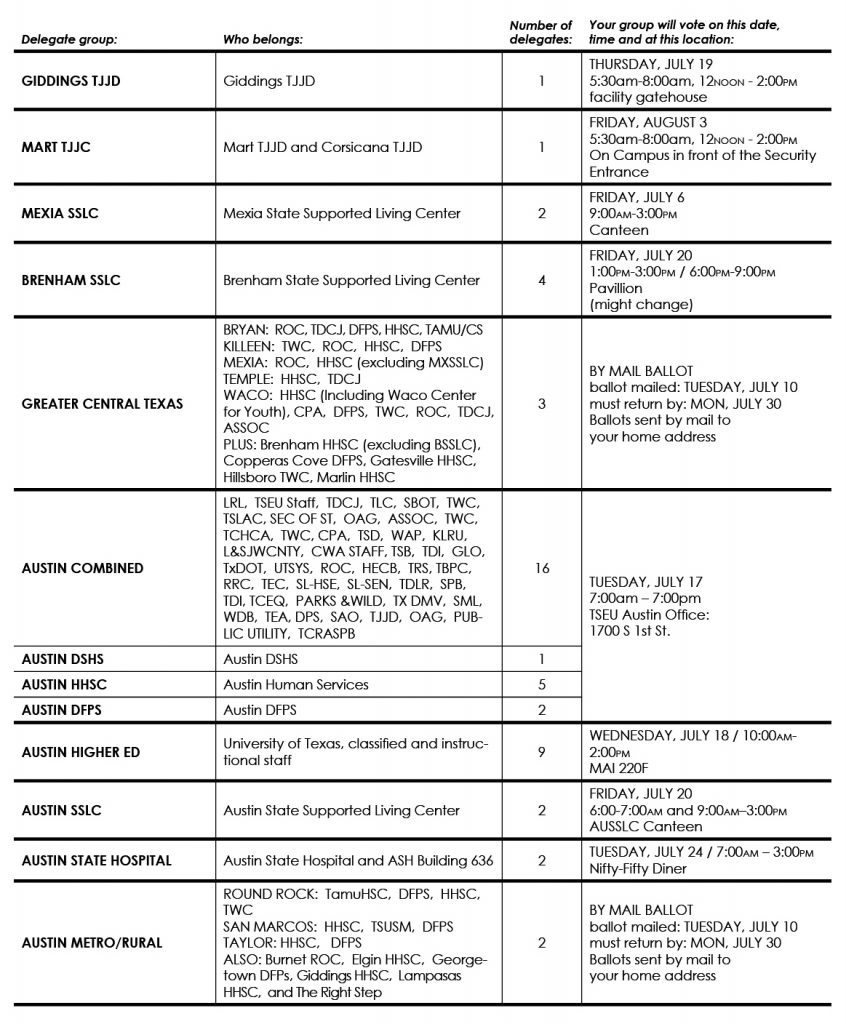 Austin Area Information and Sign-up Tables (updating information):