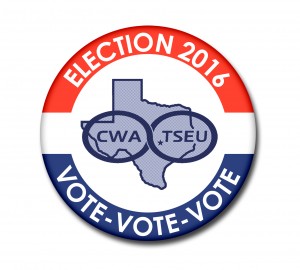 On, March 1st, Republicans and Democrats held primary elections across Texas. The relentless attacks that state employees and state services endured during the 2015 legislative session made this year's primary election critical for state workers and retirees. The goal for TSEU this primary season was to stop the election of anti-state worker/state services candidates, while electing those legislators who will actually stand up and fight for state employees.
Going into the 2016 primary election, the stage was set for another electoral showdown between the traditional Republicans and Tea Party extremists backed by anti-state employee interest groups like Empower Texans. There were more than 30 contested races between traditional Republicans and Tea Party candidates. Traditional Republican House Speaker Joe Straus (San Antonio) and his allied legislators which included Republican House leaders Byron Cook (Corsicana) and Charlie Geren (Forth Worth) defeated numerous Tea Party candidates around the state.
Unfortunately, in two of those contests, the traditional Republicans lost their seats to Tea Party challengers. In House District 73 (New Braunfels), incumbent Doug Miller was defeated by Kyle Biedermann. While in House District 128 (Baytown), incumbent Wayne Smith lost to challenger Briscoe Cain.
On the Senate side, State Rep. Susan King (Abilene) lost to Dawn Buckingham (Austin) in the run-off election for Senate District 24. Susan King played a key role in stopping the closures of State Supported Living Centers during last year's legislative session. Her absence in the House next year will make our fight for SSLC's more difficult.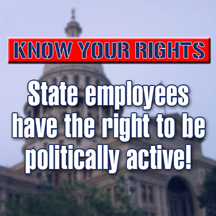 A notable Republican victory for TSEU was challenger Lance Gooden narrowly winning over current State Rep. Stuart Spitzer in House District 4 where the Terrell State Hospital is located. The attempted privatization of Terrell State Hospital was at the center of this election. Lance Gooden met with TSEU members in Terrell and pledged to fight any future attempt to privatize the state hospital. Gooden's opponent was backed by Empower Texans, a group that seeks to privatize state services and cut state jobs and benefits. The TSEU Organizing Committee at Terrell State Hospital did a tremendous amount of work in getting out the vote.
On the Democratic Party side, committed TSEU ally State Rep. May Gonzalez (El Paso) was victorious in a hard fought campaign against challenger Chente Quintanilla. TSEU members in El Paso played a big role in getting out the vote. In Austin, TSEU-endorsed State House candidate Gina Hinojosa defeated a field of 6 candidates while avoiding a run-off election. This is another of the many high profile races where TSEU played a significant role in getting out the vote. Gina Hinojosa has a strong background in working with public employees and public employee unions.
Other Democratic TSEU allies, such as State Representatives Toni Rose (Dallas), Ina Minjarez (San Antonio), and Gene Wu (Houston) easily won each of their re-election bids.  TSEU-endorsed Jarvis Johnson defeated Kimberly Willis in House District 139 (Houston) while TSEU-endorsed Mario Salas lost to Barbara Gervin-Hawkins in House District 120 (San Antonio).  Incumbent State Representative Ron Reynolds was also successful against challenger Angelique Bartholomew in House District 27 (Missouri City).