TSEU Organizer contact – MYKO GEDUTIS
Follow Elias and the ERS election campaign on FACEBOOK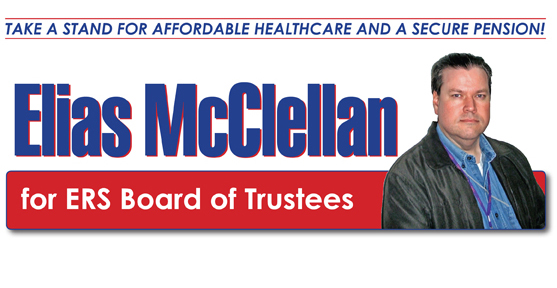 STEP ONE, NOMINATION:  Done – Elias is on the ballot! 
Nominations for the position closed on January 31 and ERS certified three nominations as valid on Monday, February 11. The candidates, in the order they will appear on the ballot, are:  • Cheryl MacBride   • Magdalena P. Blanco   • Elias McClellan
STEP TWO, ELECTION AND VOTING
Ballots will be mailed to the home addresses of all state workers

MARCH 8 – Ballots mailed / APRIL 12 – Voting ends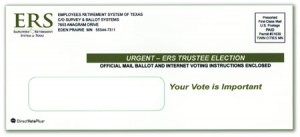 Ballots for the ERS Board Election will be mailed to homes of all state agency employees and retirees on March 8th.  At left is a picture of the envelope in which they will arrive.  Vote for TSEU's Candidate, Elias McClellan, and make sure your coworkers do the same.  If you lost or never received your ballot, call 1-866-909-3549 to get a replacement
.
We hope ALL TSEU members will take place in this election and will vote for Elias. The numbers are in our favor – if we all vote for Elias, he will win.