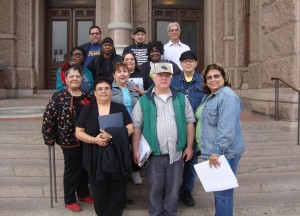 On Wednesday March 6th 2013 union brothers and sisters from SSLC's and State Hospitals gathered in Austin to meet with Legislators and staff. The 19 activist broke into teams and met with state Representatives and Senators to ask for their support for the caucuses legislative goals. During the meetings, members discussed the need for an across the board pay raise for all staff, funding to improve services in our agencies, and hazard duty pay to stop turnover. Responses varied among legislators and their staff, and it's clear that we'll need to keep the pressure on elected officials to get more support.
Prior to arriving at the capitol, SSLC/ State Hospital caucus met at the Austin TSEU office and made plans to continue contacting legislators for pay raises and on the job hazards. Methods were also discussed on how to mobilize large groups of SSLC/ State Hospital workers to attend Lobby Day 2013 on April 10th. The consensus was that organizing has to be our number one priority and attendees left mini-Lobby Day determined to build TSEU membership on campuses across the state.
This year, Lobby Day can make the difference in whether we get a real pay raise or are left with the crumbs. Buy your ticket today and get on the bus! Tickets are $15 ($8 inside Austin) and include lunch.