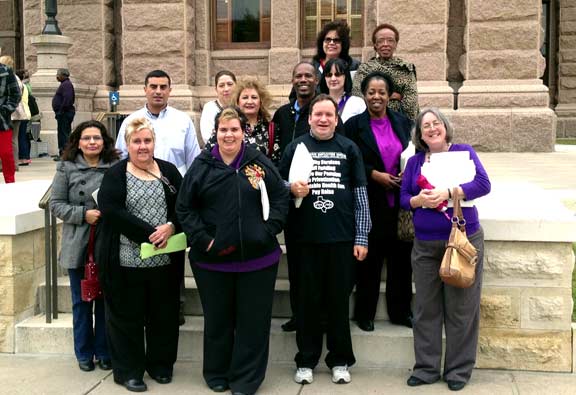 Wednesday, February 20th – A total of 15 union activists from around the state met at the Capitol for our Human Services Mini Lobby Day.  These members, from both the Health and Human Services Commission and the Department of Aging and Disability Services (CCAD), met with 33 elected officials and/or their staff.
In attendance were Samm Almaguer [TSEU Executive Board, Houston], Shelia Badzioch [Houston HHSC], Joan Barasch [San Antonio HHSC], Rodney Brown [Arlington HHSC], Rita Devine [San Antonio DADS], Yoly Griego [ERS Executive Board, El Paso HHSC], Tabiatha Harrison [Houston HHSC], Reuben Leslie [Austin HHSC], TSEU President Judy Lugo, [El Paso HHSC], June Manning, [Arilington HHSC], Margaret Santillan [TSEU Executive Board, Alpine HHSC], Janie Sarabia [San Antonio DADS], Charles Shedd [Austin HHSC], Yolanda Suffle-Bowler [El Paso HHSC], & Chris Vargas [El Paso HHSC].
Before heading to the Capital to lobby, members had a brief meeting to review Caucus goals/issues and discuss current union-wide mobilizations.  Mobilizations folks are working on include getting calls to legislators, 'Pay Raise' postcards, signing up new members, getting Elias McClellan elected to the ERS Board of Trustees, and building for a massive turnout at Lobby Day on April 10th.
At the capital, Union members spoke with elected officials about our 'ALL State Employee Issues', including the urgent need for a state employee pay raise, and protecting our pension and health care plans.  During the visits we spent the majority of the time discussing our agencies' specific issues; the need for hundreds more front-line staff, enforcing better state contract oversight, taking full advantage of the ACA Medicaid expansion, and restoring federal funding to the Women's Health Program.  Check out the Human Services Caucus page to see details on each of these issues.