ELECTION BEGINS FRIDAY, MARCH 8 – watch your mail!
Starting Friday, March 8, ballots will be mailed to homes of all state agency employees and retirees.  Below is a picture of the envelope in which they will arrive.  DON'T THROW AWAY YOUR VOTE! Vote for TSEU's Candidate, Elias McClellan, and make sure your coworkers do the same.  Find more information on our ERS BOARD ELECTION CAMPAIGN page. 
If you lost or never received your ballot, call 1-866-909-3549 to get a replacement.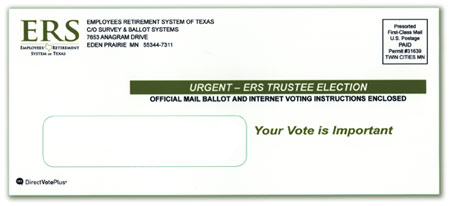 ERS Board Candidate Forum
On Thursday, March 7, the Employees Retirement System held the ERS Board of Trustees Candidate Forum.  The three candidates for the open Board seat, including TSEU's candidate Elias McClellan, participated in the event. CLICK HERE to link to video coverage of the forum.