On Monday, November 30th, Governor Gregg Abbott appointed anti – pension lobbyist Josh McGee as chairman of the Texas Pension Review Board. McGee is Vice President of the Laura and John Arnold Foundation – a private organization that advocates phasing out state employee pensions and forcing public workers into high-risk 401(k) style retirement plans. Unlike our current pension system, 401(k) defined contribution plans leave employees and retirees unprotected from stock market risks and do not provide lifetime retirement security.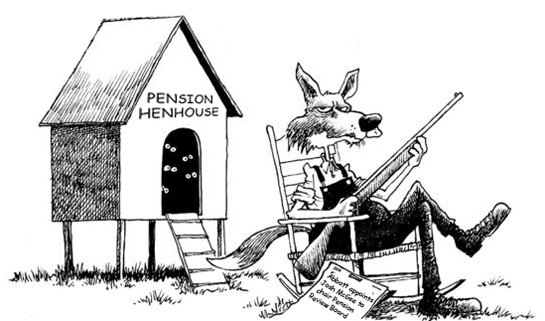 In recent years, anti-pension shill groups such as the Arnold Foundation have lobbied local, state and federal governments to force these changes onto public employees. They falsely claim that our pension systems are financially unsustainable and a burden on tax payers. In reality, this is just a blatant attempt by Wall Street fund managers to privatize and profit off public pensions at the expense of hard working employees and retirees. By charging numerous fees and skimming from the top, the Wall Street firms managing 401(k)s stand to make unimaginable wealth if our pensions were to be switched to defined contribution schemes. The majority of Texas public pension systems are adequately funded and performing well above national standards. Governor Abbott's decision to appoint Josh McGee to the Pension Review Board shows that he favors Wall Street interests over those who have dedicated their careers to public service.
The Texas Pension Review Board is an independent state agency whose mission is to monitor the financial stability of all Texas public retirement systems and recommend policy and legislation to governing bodies. However, any specific changes made to state pension plans have to be passed into law through the Texas Legislature.  The board consists of seven members who are appointed by the governor and confirmed by the Texas Senate.
Governor Abbott's appointment decision has also drawn protest from police and firefighter unions who endorsed him in the 2014 election. Various representatives from these unions have stated that they feel betrayed by the Governor's decision and refer to his Pension Review Board appointee as a "fox watching the hen house."
The governor's board appointment is only a piece of a larger movement to dismantle public employee pensions. Other anti-pension groups such as the American Legislative Exchange Council (ALEC) and Texas Public Policy Foundation (TPPF) have repeatedly advocated for cuts and drastic changes to public employee pension and health care benefits.
TSEU has fought off past attempts to cut benefits and convert our pension plans to 401 (k) defined contribution systems. As recently as the 2015 legislative session, TSEU was instrumental in defeating proposed pension cuts on employees enrolled in the Employee Retirement System (ERS).
Call your State Senator today and tell them:
My name is _______ and I'm a state worker/retiree. I'm calling to ask Senator _______ to urge Governor Abbott to withdraw his appointment of Josh McGee to the Pension Review Board. Anti-pension advocates should not be overseeing my pension benefits. Thank you.
You live in or near:    Your State Senator is:    Phone number:
Abilene  –  Sen. Troy Fraser  –  325-676-7404

Amarillo  –  Sen. Kel Seliger  –  806-374-8994

Austin  –  Sen. Kirk Watson  –  512-463-0114

Beaumont  –  Sen. Brandon Creighton  –  409-838-9861

Big Spring  –  Sen. Kel Seliger  –  432-268-9909

Brenham  –  Sen. Lois Kolkhorst  –  979-251-7888

Brownsville  –  Sen. Eddie Lucio  –  956-548-0227

Brownwood  –  Sen. Troy Fraser  –  325-676-7404

Bryan/College Sta  –  Sen. Charles Schwertner  –  979-776-0222

Corpus Christi  –  Sen. Chuy Hinojosa  –  361-225-1200

Corsicana  –  Sen. Brian Birdwell  –  817-573-9622

Dallas (E, NE)  –  Sen. Bob Hall      –  972-722-3131

Dallas (S, W)  –  Sen. Royce West  –  214-741-0123

Dallas (N, NW)  –  Sen. Don Huffines  –  214-239-6131

Denton  –  Sen. Jane Nelson  –  817-424-3446

Eagle Pass  –  Sen. Carlos Uresti  –  830-758-0294

El Paso      –  Sen. Jose Rodriguez  –  915-351-3500

Fort Worth (North)  –  Sen. Kelly Hancock  –  817-514-3804

Fort Worth (South)  –  Sen. Konni Burton  –  817-882-8157

Gainesville  –  Sen. Craig Estes      –  940-898-0331

Galveston  –  Sen. Larry Taylor      –  281-332-0003

Harlingen  –  Sen. Eddie Lucio      –  956-787-5227

Houston (East)      –  Sen. Sylvia Garcia  –  713-923-7575

Houston (Northwest)  –  Sen. John Whitmire  –  713-864-8701

Houston (S, Cen)  –  Sen. Rodney Ellis  –  713-236-0306

Houston (SW)      –  Sen. Joan Huffman      –  281-980-3500

Katy  –  Sen. Lois Kolkhorst  –  281-394-5610

Laredo      –  Sen. Judith Zaffirini  –  956-722-2293

Lubbock  –  Sen. Charles Perry  –  806-783-9934

Lufkin  –  Sen. Robert Nichols  –  936-699-4988

McAllen  –  Sen. Chuy Hinojosa  –  956-972-1841

Midland/Odessa  –  Sen. Kel Seliger  –  432-620-0436

Nacogdoches      –  Sen. Robert Nichols  –  936-564-4252

Orange  –  Sen. Robert Nichols  –  936-699-4988

Round Rock  –  Sen. Charles Schwertner  –  512-863-8456

San Angelo  –  Sen. Charles Perry  –  325-481-0028

San Antonio (Cen)  –  Sen. Jose Menendez  –  210-733-6604

San Antonio (North)  –  Sen. Donna Campbell  –  210-979-0013

San Antonio (W, S, E)  –  Sen. Carlos Uresti  –  800-459-0119

San Marcos  –  Sen. Donna Campbell  –  830-626-0065

Temple/Killeen      –  Sen. Troy Fraser  –  254-939-3562

Terrell  –  Sen. Bob Hall      –  972-722-3131

Tyler  –  Sen. Kevin Eltife  –  903-596-9122

Vernon      –  Sen. Charles Perry  –  806-783-9934

Victoria  –  Sen. Lois Kolkhorst  –  361-573-7300

Waco  –  Sen. Brian Birdwell  –  254-772-6225

Wichita Falls  –  Sen. Craig Estes  –  940-689-0191