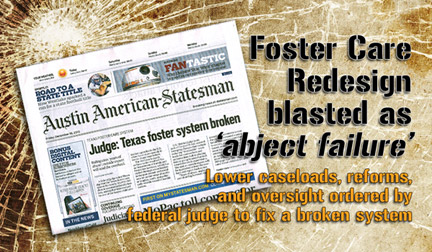 In December, after weeks of trial and nearly a year of deliberation, Senior US District Judge Janis Graham Jack issued a 250 page decision that has brought systemic failures in DFPS to the forefront. Judge Jack found that DFPS violated the constitutional rights of children in care to be kept from an unreasonable risk of harm by the State. The ruling states that the agency was deliberately indifferent to the needs of foster children, ignored decades of reports and recommendations to correct problems, and departed from professional judgement in implementing policies and procedures. The state can appeal to a higher court within 30 days.
The decision echoes what TSEU members have been saying for years – we need lower caseloads to better protect the most vulnerable Texans. The ruling states, "DFPS has done little to address this problem. It has not created a caseload range, it has not hired enough primary caseworkers, and it has not instituted policies to reduce caseworker turnover."
This is an extremely important development that may lead not only to the establishment of concrete caseload standards, but also the staff required to make the standards a reality.
The ruling describes other internal reform efforts as failures and as unreasonable responses to protect the Texans we serve, which sends a clear message that the status quo is unacceptable. Judge jack wrote, "The reality is that DFPS has ignored 20 years of reports, outlining problems and recommending solutions. DFPS has also ignored professional standards…The Court has no assurance that anything has changed. Of the two reforms to which DFPS pointed- CPS Transformation and Foster Care Redesign-one was instituted in the wake of this lawsuit, the other is an abject failure…"
What's Next?
A Special Master will be appointed by the Judge to produce and oversee an Implementation Plan. Children's Rights, the organization that filed the lawsuit, and DFPS will be involved in the selection of the Special Master, as well as the development of the Implementation Plan. The Court will make final decisions about the Special Master and the Implementation Plan, and will receive regular updates on whether goals have been met. (See a summary of goals below). The Special Master is to be appointed by 30 days from the Dec. 17th ruling, and the Implementation Plan is to be presented to the Court 180 days following the appointment.
What are the Goals?
General- Ensure children in care can meet privately with caseworkers; improve IMPACT and CLASS; include updated photos of children in care; improve programing for foster children aging out of care; assign all children in PMC an attorney ad litem and CASA volunteer.
CVS – Track cases based on children instead of stages; workload study to determine a reasonable caseload; recommend caseload level; DFPS must hire staff to ensure recommended level is met in each county; DFPS must lower staff turnover rate; evaluate whether to maintain CPU and I See You Programs.
CCL – Workload study to determine a reasonable caseload for Investigators and Inspectors; recommend caseload level; address unwillingness to place facilities on corrective actions; track and categorize child on child abuse.
Placements – Establish standards controlling the varying ages and service levels of unrelated children sleeping in the same room; conduct a statewide needs assessment for foster care system; track all children in residential facilities; only continue Foster Care Redesign if it meets criteria of statewide needs assessment; address disruption of placements when service levels improve.
.

back to the FPS homepage