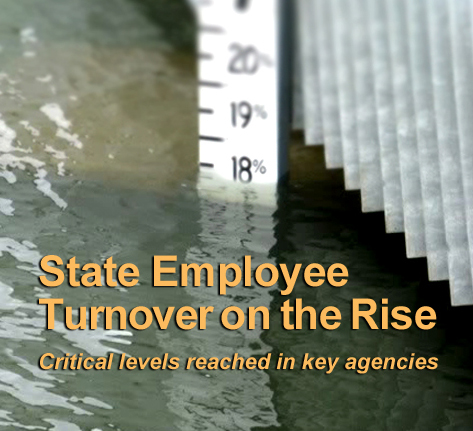 According to the State Auditor's annual report on state employee turnover, Texas saw its highest turnover rate across all state agencies this year since 2000. The average turnover for all state agencies in Fiscal Year 2015 was 18%, but some agency turnover rates climbed as high as 20%-30%. Numbers for some of the largest state agencies are posted below.
The reasons for the mass exodus are also highlighted in the report: low pay and high workloads. According to exit surveys, 71% of responding employees who quit the state were headed to higher paying jobs. The majority of state workers have seen just a 2.9% increase in take-home pay since 2008. While the average state employee earns around $36,000/year, thousands of state workers earn less than $25,000/year with little hope of ever advancing beyond that.  In agencies with the highest turnover rates, poor working conditions and low pay were consistently cited as the top reasons people quit their jobs.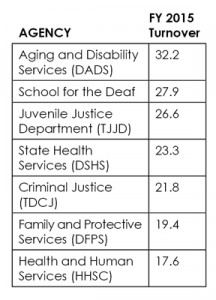 TSEU President Judy Lugo had this to say: "State employees are getting squeezed from both sides: our paychecks get smaller as our health care costs go up and at the same time our workloads keep going up as more and more Texans seek services. A lot of state workers are just throwing up their hands and saying, 'enough's enough!'"
The high turnover rate in state agencies means taxpayers are wasting hundreds of millions of dollars year after year in training expenses for new employees. Higher wages for front-line state employees would reduce those costs by incentivizing trained and experienced employees to stick with the state. In 2000, the last time turnover reached above 18%, the State Auditor's Office estimated the cost to taxpayers at $361 million (in 2015 dollars).
A reduced turnover rate would also mean more efficiency in state government because there would be enough staff to provide services quickly and professionally to Texas citizens. Texas' population has increased by close to 50% since 1994. Over that same time period, the total number of state agency employees has decreased by 4%. Changes in technology, policies, and procedures don't make up for the difference between Texas' population and the state employee workforce. More Texans means more citizens in need of state services.  A shrinking workforce with a high turnover rate creates a barrier to services and programs that are vital to our communities.  An across-the-board pay raise for all state workers is an investment from which all Texans will benefit.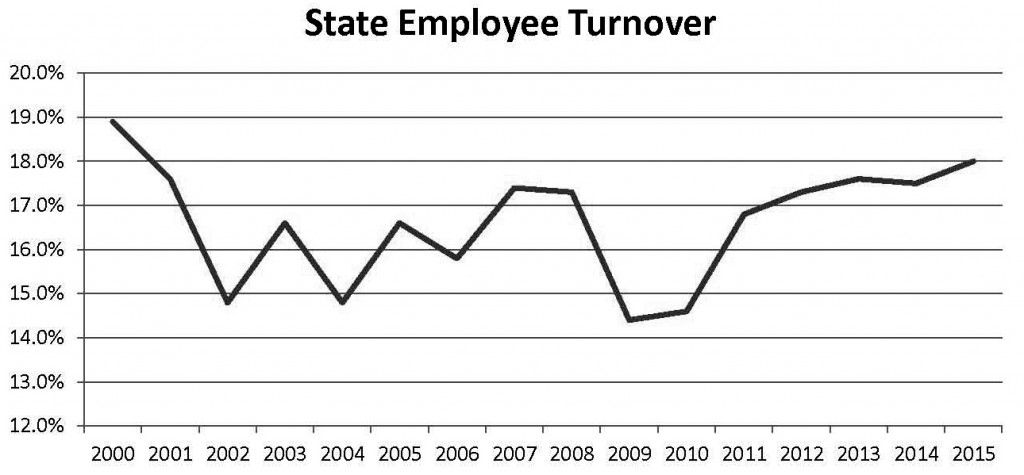 WHAT TO DO NOW!
JOIN THE UNION!
Only an organized voice can win a REAL, across-the-board pay raise and adequate staffing levels in our agencies.
Join TSEU-COPE!
We must build state employee political power so that we can elect a pro-state worker legislature.