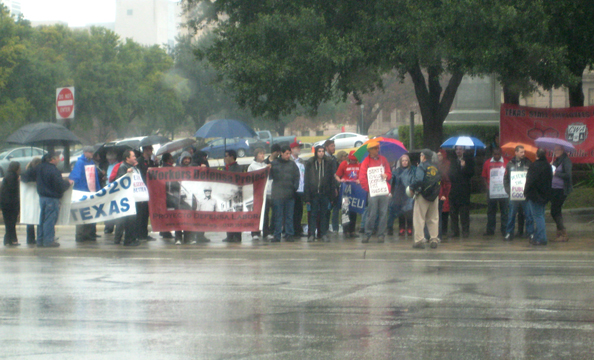 Tuesday, January 8th was the first day of the 83rd Legislative Session in Austin and TSEU members were there both inside and outside the capitol to make sure state employee voices were heard. Despite the rain, close to 50 TSEU members and allies from other labor groups gathered at the front gates of the capitol. They called on the Legislature to "Defend the Public Good" by restoring the massive funding cuts made to education and vital state services in 2011, providing a desperately needed across-the-board raise for state workers, and fully funding the health care and pension benefits for active employees and retirees. Teams of TSEU members were also inside the capitol, stopping by every state representative and senator's office to deliver the same message. The dual mobilizations were a successful way to kick off a legislative session in which lawmakers are openly talking about cutting even more state spending despite the huge increases in revenue over the last two years.
An article about the rally on Tuesday was printed in the Austin American Statesman. Follow the link to read it:
http://www.statesman.com/news/news/state-regional-govt-politics/state-union-pickets-legislators-after-budget-surpl/nTqQM/.