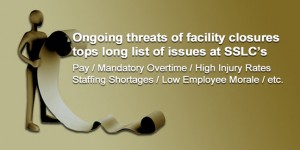 On Friday, October 16, TSEU activists Rose Soto and Carmen Duron (Corpus Christi SSLC), Marina Galvan (San Angelo SSLC), and David Veith (San Antonio SSLC) met with DADS Commissioner Jon Weizenbaum, Assistant Commissioner for State Supported Living Centers Scott Schalchlin and other members of the DADS Executive Team. In the wake of the most serious threat of closures in many years, the statewide caucus requested the meeting to ensure frontline workers' voices were being heard on issues of employee morale and turnover at all levels in the agency.
Commissioner Weizenbaum was commended for requesting pay increases for staff in past budget hearings. We were all in agreement that many positions are not compensated adequately and the recent across the board raise did not meet the needs of state employees who are falling further behind the cost of living. We expect the commissioner to address the need of pay increases in the next budget request from the agency but we know it will take grassroots organizing and mobilizing of state workers and allies to pressure the legislature to make this happen.
The need to have open communication at the facilities was also discussed. Town hall meetings, focus groups and individual surveys are all key ways to ensure employees' concerns are being heard and addressed. By providing staff with employee handbooks, ensuring in-services on new procedures are completed thoroughly and continuing to enhance supervisors' people skills, frontline workers will have a better understanding of expectations of the job, be better equipped to provide quality services and feel like a valued member of the team.
Mandatory overtime, shortages of coverage and approval of leave are also major issues in SSLC's. The union's position is clear that staff should have the right to get paid immediately for all overtime worked, it should be voluntary and if the need for holdovers arises there should be a fair system in place so that employees know in advance when they may need to stay over. Overtime along with the use of contract workers to fill vacancies are very costly to the agency, and that money would be better spent maintaining a fully staffed facility. A suggestion was made to create an employee pool for each shift to respond to homes having coverage issues.
Other issues that were addressed included high injury rates and investigations. Both contribute to staffing shortages and negatively impact morale. Again, keeping well trained fully staffed facilities will alleviate these problems. There are no quick fixes for all the issues facing SSLCs, but with agency officials, facility management and frontline workers communicating and working for solutions, we can make vast improvements
To continue to be the voice for state workers on the job, in the agency and at the legislature, we must continue to organize and mobilize our co-workers. Three things to do:
1.   Join the union! If you are a member already, sign up a co-worker.
2.  Join COPE to build our union's political muscle.
3.  Make our union unbreakable by signing the bank draft conversion form.