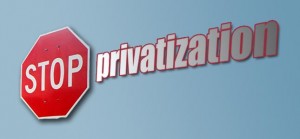 DSHS announced on Monday, October 20, 2014 it will enter contract negotiations with Geo Care, a branch of Geo Group (formerly Wackenhut, a private prison company) to transfer over all or part of its services at the Terrell State Hospital to the private company. This move not only threatens the jobs and livelihoods of the more than 900 state employees who work at the Terrell State Hospital, it also threatens the care that hundreds of patients currently receive at the facility.
Geo Group has a long history of mismanaging the facilities it is charged with operating in both private prisons and hospitals. The state of Mississippi ended contracts at three facilities, including a youth facility that a federal judge described as having "allowed a cesspool of unconstitutional and inhumane acts and conditions to germinate." At Geo's South Florida State hospital a patient died in a scalding bathtub, according to the Associated Press in a string of three deaths over a few weeks' time in 2012. In Texas the Austin American Statesman reported that the Geo run forensic facility in Montgomery County had been fined for problems including "unauthorized restraint and seclusion of patients, incomplete medical records, failure to show patient consent for medications and failure to report serious injuries to the state." In 2012, DSHS rejected a bid by Geo Care to run the Kerrville State Hospital, citing the company's plans to achieve savings by reducing staffing levels which would threaten the quality of care for patients.
Texas ranks 50th in the nation in per capita expenditures for mental health care. More beds and more funding is what is vitally needed. All of the current state hospitals are needed as public facilities. Turning them over to a private operation will inevitably lead to cuts in expenditures related to patient care and treatment, either directly or indirectly, including cuts to already inadequate staffing levels, salaries that already are inadequate to keep qualified staff and cuts to employee health care and pension benefits. Maintaining rigorous standards of care and treatment must be at the core of the operation of any mental health facility. Care and treatment must not be compromised to accommodate the privatization process.
THIS IS NOT A DONE DEAL – What to do now:
Ask your coworkers to join the union (click to download a membership application to sign-up a co-worker). Only a strong, organized voice can stop this privatization attempt.
Join COPE (click to download a COPE form to join), TSEU's political action committee. State workers need strong political muscle to win this fight.
Contact your state legislators and ask them to tell DSHS to cancel the plans to give control of Terrell State Hospital (or ANY state hospital) over to a for-profit company.
Listed below, the current State Representative and Senator for each of Texas' State Hospitals.
Austin State Hospital
Rep. Elliott Naishtat,
512-463-0668
Sen. Kirk Watson,
512-463-0114
.
Big Spring State Hospital
Rep. Drew Darby,
325-658-7313
Sen. Kel Selieger,
806-374-8994
.
El Paso Psychiatric Center
Rep. Naomi Gonzales,
512-463-0622
Sen. Jose Rodriguez,
915-351-3500
.
Kerrville State Hospital
Rep. Harvey Hilderbran,
830-257-2333
Sen. Troy Fraser,
254-939-3562
.
North Texas State Hospital
Vernon Campus
Rep. Drew Springer,
940-665-8400
Sen. Craig Estes,
940-689-0191
Wichita Falls Campus
Rep. James Frank,
940-767-1700
Sen. Craig Estes,
940-689-0191
.
Rusk State Hospital
Rep. Travis Clardy,
936-560-3982
Sen. Robert Nichols,
903-589-3003
.
San Antonio State Hospital
Rep. Roland Gutierrez,
210-532-2758
Sen. Carlos Uresti,
210-932-2568
.
Casa Amistad
Rep. Richard Raymond,
956-753-7722
Sen. Judith Zaffirini,
956-722-2293
.
Terrell State Hospital
Rep. Lance Gooden,
903-675-7138
Sen. Bob Deuell,
972-279-1800
.
Waco Center for Youth
Rep. Charles 'Doc' Anderson,
254.754.3892
Sen. Brian Birdwell,
254-772-6225
.
Rio Grande State Center /
South Tx Health Care System
Rep. Eddie Lucio III,
956-365-4458
Sen. Eddie Lucio Jr,
956-548-0227
READ MORE:
Advocacy groups express concerns about tentative contract with GEO Care to operate Terrell State Hospital
– GRASSROOTS LEADERSHIP website
State tentatively taps company to run Terrell State Hospital
– AUSTIN AMERICAN STATESMAN
Privatization of Terrell State Hospital entering contract negotiations
– FORNEY.COM (website for Forney and Kaufman County)
_______________________________________________________