The 2014 General Elections are shaping up to be the most pivotal elections in Texas in almost 20 years. For the first time in 14 years, we will be electing a new governor and lieutenant governor; while opposing political forces fight over the future direction in which our state is headed.
On one side, you have the anti-state services Tea Party candidates who defeated a significant number of traditional Republican legislators earlier this year in the primaries. With the help of highly funded Political Action Committees (PACs), the Tea Party will have a stronger presence in the Texas Legislature, especially in the Senate. Going into the 2015 Legislative Session, these new Tea Party legislators will be preparing an agenda to gut state services and ax pay and benefits for state workers.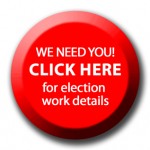 On the opposite side of the coin, Democratic groups such as Battleground Texas have been working with the Wendy Davis campaign and other House and Senate candidates to register new voters and improve voter turnout for the Democratic Party. The changing demographics and low voter turn-out has presented an opportunity to increase the number of potential voters in order to shift the voting patterns in Texas. The possibility of Texas becoming a "blue" state has attracted national attention, along with new resources and political activism from areas both inside and outside of Texas.
.
What do the elections potentially mean for TSEU and state employees?
The 2015 Legislative Session is predicted to be one of the most difficult sessions TSEU has ever faced. With a larger number of Tea Party legislators in the state capitol, we can expect more attacks on state services, our health care benefits and pension plans, and resistance to a real pay increase in the next session. Combine that with the possibility of Greg Abbott as Governor and Dan Patrick as Lt. Governor and the result will be an even worse situation for state employees and the Texans who rely on our services.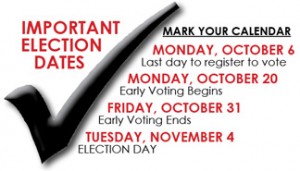 Despite that possibility, we still have a real chance to influence the course of these elections which will lead to a better political environment for state workers and state services in the 2015 Session. TSEU-COPE members are currently working to help elect a number of House and Senate candidates who have pledged to fight for public employees and the services we provide. Fellow TSEU members Sen. Wendy Davis and Sen. Leticia Van de Putte have also committed to continue their support for state employee issues if elected Governor and Lieutenant Governor. Throughout the state, TSEU members will be supporting these candidates through block walking, phone banking, sending election mailings and getting more Texans out to vote. This is why every state employee needs to be involved in TSEU-COPE in order for us to maximize our influence in the Texas Capitol!
New Voter Identification Requirements
It is now required in Texas that a voter must show one of the following forms of photo identification at the polling location before voting:
Texas Driver's License issued by the Department of Public Safety ("DPS")
Texas Election Certificate, issued by DPS
Texas Personal Identification Card, issued by DPS
Texas Concealed Handgun License, issued by DPS
US Military Identification Card, containing the person's photograph
United States Citizenship Certificate, containing the person's photograph
United States Passport
With the exception of the U.S. citizenship certificate, the identification must be current or have expired no more than 60 days before being presented for voter qualification at the polling place.  If you do not have a valid form of photo identification, you may apply for a free election identification card at your local Texas Department of Public Safety office.  For more details on voter identification requirements call 1-800-252-VOTE