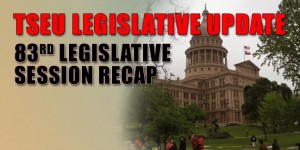 On January 8, 2013, Texas lawmakers convened for the 83rd Legislative Session. Going into this session, most state employees had gone for four years without a pay increase while state agencies were burdened with reduced services and low staffing levels as a result of the drastic budget cuts implemented in the 2011 legislative session when the state was experiencing a $27 billion budget shortfall. University employees had gone without a legislated across-the-board raise since 2001. This time state lawmakers would have an $8.8 billion budget surplus and $11.8 billion available in the Rainy Day Fund, due to the comptroller's conservative budget projections, which fueled the decision to make deep cuts last session. . . . Since the state's budget situation had improved, money was available to restore the cuts to state services, authorize a competitive pay raise for state employees, and maintain our benefits. But history has taught us that the legislature never gives state employees anything unless state employees are organized and able to influence legislators through mobilizing around our issues. Just as we did in 2011, when we stopped attempts to furlough and cut our pay, TSEU members across the state organized themselves and co-workers and got involved by calling and visiting their representatives. This session TSEU members participated in over 400 legislative visits at the capitol, generated thousands of phone calls, and sent 2700 pay raise post cards. On April 10th over a thousand TSEU members from all corners of the state descended on the capitol for the 2013 Lobby Day March & Rally. Despite the rain and cold weather, TSEU's presence was in full affect. Following Lobby Day, union members kept the pressure up by participating in weekly "Lobbying Blitzes" to protect our pensions and push for a pay raise. We didn't get everything we wanted this session, but the tremendous work done by TSEU members pushed the legislature to end the 4 year drought of no pay raises, funded state employee's health care plan (no employee premium sharing), and abandon the idea of converting our pension plans to defined contribution plans (401k plans). The outcomes of the 2013 Legislative Session are as follows:
read more on the PAY RAISE Campaign page
read more on the PENSION Campaign page
read more on the HEALTHCARE Campaign page
The Budget
The legislature restored most but not all of the funding and programs that were cut from state agencies in the previous session. For example, lawmakers increased funding to the Health and Human Services Commission by nearly $14 billion (40%) from last session's budget. Other key agencies such as Department of Family Protective Services, Department of Aging and Disability Services, Department of State Health Services, and Texas Department of Criminal Justice all saw increases in their budgets.
Multiple pro-state employee/services riders that TSEU supported and pushed for were included in this session's budget. Riders are amendments to the budget that instruct state agencies to carry out certain duties and functions. Some of these riders include: * Oversight and guidelines on private contracts in human services agencies * Night and weekend pay differential for SSLC's, State Hospitals and TJJD facilities * SSLC, State Hospital, and TJJD employees will have access to on-site health care for injuries sustained on the job * Instruction for agencies to pay out compensatory time * On-call pay and relevant college degree pay for certain DFPS positions * Long term planning to meet the future funding and infrastructural needs of State Supported Living Centers and State Hospitals * TJJD will create a grievance procedure comparable to TDCJ
Higher Education Funding
TSEU's "Fund Our Future" campaign to restore the 2011 higher education funding cuts spurred mixed results. Overall funding for higher education was increased by $669 million (4.4 %) for the new biennium. This is a restoration of around two-thirds of the nearly $1 billion that was cut last session. In a vacuum, this might seem like an improvement, however when inflationary operational costs and student enrollment growth are taken into consideration, Texas has punted on an opportunity to restore higher education funding. The biggest highlight from this session was that funding for the Texas Grant Program was increased by 25% to $724.6 million. This is the primary need-based student financial aid program managed by the state. This increase more than restored the funding cut from last session and will allow the program to cover 80 percent of students who qualify.
Other TSEU Legislative Victories
HB 480 Alvarado Allows state employees up to 8 hours of annual leave to attend educational activities of their children PASSED .
SB 771 Uresti Provides training for supervisors in the Department of Family and Protective Services before they start their job duties PASSED .
HB 739 and SB 255 Crownover and Deuell Introduces Health Savings Accounts into ERS DEFEATED .
HB 973 and HB 2444 Capriglione and Callegari Authorizing public retirement systems to release confidential information on its participants DEFEATED .
HB 231 Isaac Suspending Employees Retirement System of Texas annuity payments for employees who return to work for the state. DEFEATED
HB 291 and HB 2906 King and Harper-Brown Hiring freeze of nonessential personnel employed by a state agency. DEFEATED .
HB 3528 and SB 1766 Klick and Rodriguez The creation of the State Supported Living Center Realignment Commission aimed at closing and consolidating state supported living centers DEFEATED
Moving Forward
Now that the 2013 legislative session has ended, the work to build our strength for the next legislative session starts now! An insufficient 3% across-the-board pay increase and cuts on retirement benefits for future employees tells us that most lawmakers still have not gotten the message on what state employees really need: a real pay raise that keeps up with the rising cost of living and secure health care and retirement benefits. We must begin the work of pulling more of our coworkers off the side lines and into the fight. That means asking more people to join the union and more TSEU members getting involved in COPE and in TSEU's political program. The remarkable work union members did throughout this year's session produced significant gains, such as increased agency funding, targeted pay increases for some of the lowest paid state employees, defeating the worst of the pension cuts, and getting the legislature to put more money into the pension fund than it has since 1985. We are not where we want to be, but we are surely headed in the right direction. Get involved in COPE and ask your co-worker to join TSEU today!