Governor Abbott's call for a 7-month hiring freeze in state agencies and universities is dangerous and will have real-life consequences for Texans. From students enrolling in universities, to disabled Texans in understaffed State Supported Living Centers, and to our neighbors applying for public assistance because of hard times, the impact of the hiring freeze will be felt by all Texans. The pressure for state agency and university employees to continue to do more with less, while our pay remains stagnant, will drive away more dedicated employees and increase turnover rates in a vicious cycle.
Over the last 22 years, the total number of state agency employees has decreased by 4% while the state's overall population has increased by nearly 54%. State agency staffing levels are already insufficient to meet the current needs of Texans; the Governor's hiring freeze only makes this problem drastically worse.
The hiring freeze and high agency turnover
State agencies and positions with high turnover will be the most impacted by the Governor's hiring freeze. As employees leave state agencies, those vacant positions that provide critical services will not be refilled. For example, direct support professionals employed at State Support Living Centers have a turnover rate of 47.4%. This means a job position that provides life-sustaining services to individuals with intellectual and developmental disabilities will remain vacant, thus significantly reducing the state's ability to address these essential needs. Below is a chart that details the impact of the hiring freeze on state positions with high turnover.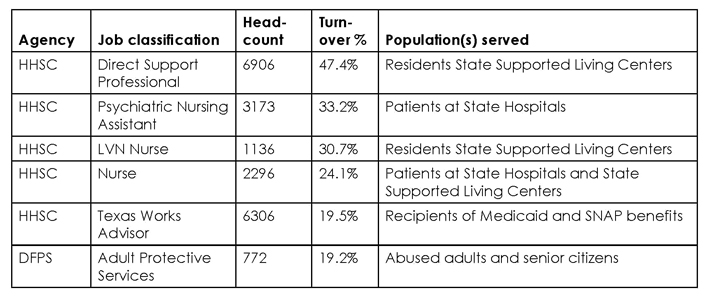 End the Freeze – Call your State Rep TODAY!
[sample phone script]
My name is _________. I'm a state employee and I work at _________ in _________.
I'm calling to ask Representative _________ to ask Governor Abbott to reverse his decision to freeze new hiring in state agencies and universities. Where I work, we can't afford to go any length of time without hiring new employees. Our turnover is too high. A hiring freeze will mean we can't serve the people of Texas who depend on us every day. Thank you.
Don't know your State Rep or their contact information? Connect with your elected officials using your home address:
.