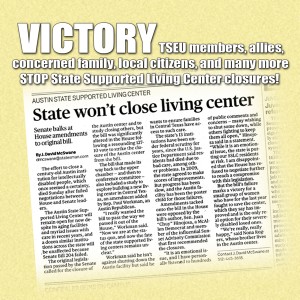 The bill calling for the closure of Austin State Supported Living Center and setting up a commission to consolidate and close others died Sunday after House and Senate conferees failed to reach an agreement to reconcile the versions of the bill passed by each. The House of Representatives overwhelmingly approved amendments stripping out language that called for the closures in Senate Bill 204.
This is a huge victory for TSEU and its allies who worked together to defeat this attempt to close the 100 year old facility in Austin and twelve other ones that provide services for individuals with intellectual and developmental disabilities. Many believed the closure was a certainty when the DADS Sunset Committee announced the proposal a year ago. TSEU, the Family and Guardian Association of Austin SSLC and PART (a statewide advocacy organization for SSLC residents) spearheaded the effort to keep the home for more than 200 Texans with severe to profound intellectual and developmental disabilities and complex medical and emotional needs open and stop further closures.
TSEU hosted a picnic at Austin SSLC to mobilize members and launched a Save SSLC postcard campaign immediately after the proposal. Demonstrations and press conferences at Austin SSLC with the Family and Guardian Groups, along with West Austin neighbors, were held throughout the fight. Members across the state made phone calls and legislative visits, sent postcards, testified at committee hearings and walked the floors of the Capitol with family and guardians until we won.
Several key legislators fought to make sure the State Supported Living Centers were not closed. Representatives Susan King, Paul Workman and Trey Martinez Fischer did much of the heavy lifting in the House to get amendments attached to stop the closures with overwhelming support. Kirk Watson worked to get a similar amendment attached to the bill in the Senate but could not get enough support. As we celebrate this victory for state employees, the loved ones of the SSLC residents and the individuals who depend upon these crucial services, we need to keep in mind the necessity to continue to organize and mobilize.