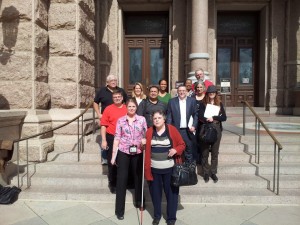 Wednesday, February 6th – University union activists from across Texas came to Austin to meet with legislators about university employee issues and the future of higher education in Texas.  Members met with legislators and staffers to discuss the TSEU university caucus legislative agenda which includes restoring funding for higher education, stopping the privatization of campus services, winning an across-the-board pay raise, and securing full-funding for TRS by increasing the state's contribution.  Miguel Torres (TTHSC – Lubbock), Veronica Cortes (UTHSCSA), Joseph Davis (U of H), Karen Charleston (Prairie View A&M), Elias Cantu (UT-Southwestern), Stephanie Jackson (UT-Austin), Philip Mullins (UT-Austin), Kathryn Kenefick (UT- Austin), Judy Holloway (UT- Austin) and Anne Lewis (UT- Austin) participated in the day.   In all, 13 members met with 25 legislators and their staffers.  Each legislative office was presented with copies of 'Fund Our Future' petition signatures that had been collected by TSEU from university constituents.  The petition calls for the legislature to restore the funding cut from higher education in the last session and reverse the decades-long trend of funding cuts.  To date, TSEU has collected close to 5,000 signatures statewide.  Members also spoke adamantly with legislators about the desperate need for an across the board pay raise and made a strong case demonstrating the devastating consequences of privatization on university campuses.
Prior to arriving at the capitol, members met at the Austin TSEU office and made plans to finish out the 'Fund Our Future' petition campaign in style by continuing to collect signatures until the end of the legislative session.  Plans were also made to build big groups of university workers to attend Lobby Day 2013 on April 10th.  The caucus also discussed strategies to oppose privatization at UT-Austin and at all public universities in Texas.  The consensus was that organizing has to be our number one priority and attendees left mini-Lobby Day determined to build TSEU membership on campuses across the state.
For more information contact Ted Hooker at 210-354-2900 or thooker@cwa-tseu.org.