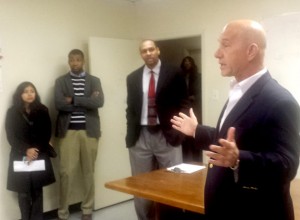 This month, Senator John Whitmire, Chair of the Senate Criminal Justice Committee, made site visits to TDCJ Parole offices Houston 6 (Regional) and Houston 7.  Members of the TSEU Houston Parole Organizing Committee arranged the visits for Senator Whitmire so that he could see first-hand the working conditions of support staff and parole officers. Staff members were able to express the need for a real pay increase, safety inside and outside the building, and manageable caseloads. They discussed issues with approval and payment for overtime, travel vouchers, and conditions at POTA. During the tour, three new members joined the union and one joined COPE.
Union members stressed to Senator Whitmire that the recent 1% across-the-board raise was not nearly enough to keep up with the rising cost-of-living. They also explained how frustrating it was to have to work so much overtime, only to have it banked up to 191 hours before it was paid out. Senator Whitmire also heard about the problem of high caseloads affecting the agency's ability to do its job.
After leaving the Houston 6 office, Senator Whitmire also took a full tour of the Houston 7 office, where union
members showed him mold growing in many of the offices and an elevator that broke down in the middle of his visit, trapping a Parole Officer inside. After seeing the condition of the building, Senator Whitmire pledged to speak with TDCJ administration about moving the office to a new location.
In addition, the Senator noticed the lack of security in the lobbies of the parole offices and observed officers conducting unsecured office visits with clients.  Support staff spoke about the need for a career ladder and the concerns for their safety as being the first people to see the clients. Having witnessed the crowds of people in the lobbies of the buildings, the senator stated he is convinced of the need for the implementation of safety measures, pay increases for all TDCJ employees, and career ladders for support staff. Senator Whitmire informed staff the way to change things is to: organize and join the union, get involved in election work, and communicate with your state representatives and senators.