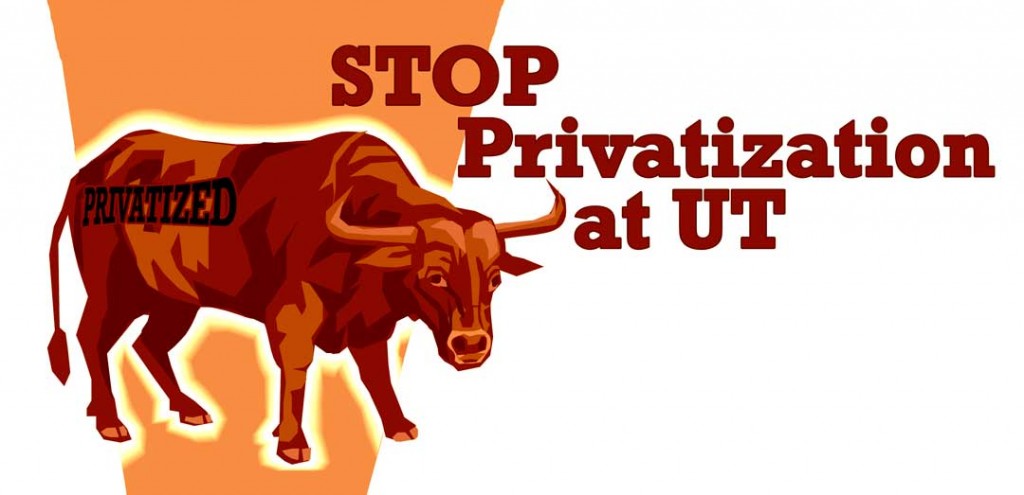 A proposal put on the table by UT President Bill Powers seeks to privatize many UT services possibly resulting in the loss of state jobs, increases in costs to students, and a new era of 'doing more with less'.  While this is an ongoing process and nothing has been decided by the UT adminstration, TSEU-University Caucus members are fighting to make sure these propsoals are never enacted.
Contracting out campus services will hurt UT
[FEBRUARY 6 – TSEU NewsBulletin] Read the most recent TSEU analysis of this issue; what happened in similar situations at A&M; and what's the lesson for UT?
BACKGROUND
What is the proposal?
[JANUARY 29] Link to President Bill Powers presentation and transcripts of 'Smarter Systems for a Greater UT', a report to the University community.
TSEU members respond
[JANUARY 31] Powers' contradictory vision by TSEU member and UT worker Snehal Shingavi
[FEBRUARY 3]  A call to fight Powers' plan, by TSEU member and UT worker Dana Cloud
[FEBRUARY 4]  In response to UT President Powers, 'Smarter Systems for a Greater UT', by Anne Lewis, TSEU Executive Board members and UT Lecturer
What to do now?
Contact your Austin-area legislator TODAY!  CLICK HERE for more information