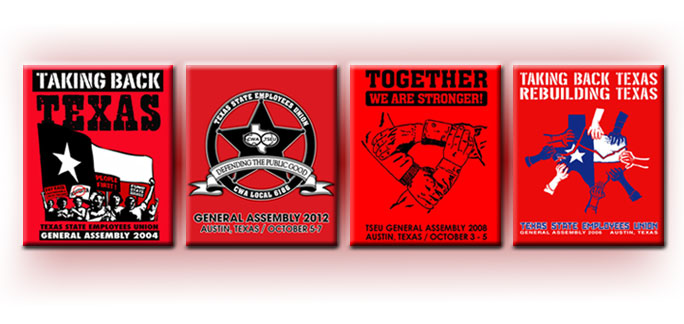 TSEU's General Assembly is right around the corner, so we are making preparations today. Currently, we are accepting submissions for the T-Shirt and Logo Design Contest.  Our event slogan is:  "WE ARE TEXAS, SOLIDARITY FOREVER"; designs should reflect this theme. The contest is open to all members and family.  The winner will be acknowledged during the General Assembly and will have their design appear on all printed General Assembly materials, on the General Assembly t-shirt, and on a future UPDATE cover.
Printer-ready artwork is great, but we are looking for (and will acknowledge contributions of) designs or concepts at any level or ability. So no matter how 'rough' your artwork, send it along!  Sample GA logos through the years are seen above.
To have your design considered:
Design should be 8 ½ x 11", larger is fine. Email to Chris Knapp at cknapp@cwa-tseu.org or mail your design to: TSEU / 1700 South 1st Street / Austin, TX 78704
Design must include the words:  'TSEU General Assembly',  'Austin Texas, September 26 – 28, 2014',  'We are Texas, Solidarity Forever'
The design must use no more than two colors. It will be printed on a red t-shirt (traditionally, the logo has contained red, black, and white)
Submitted designs will be subjected to minor changes.
Deadline is July 11, 2014. For more details contact Chris Knapp at the TSEU Austin office (512.448.4225).