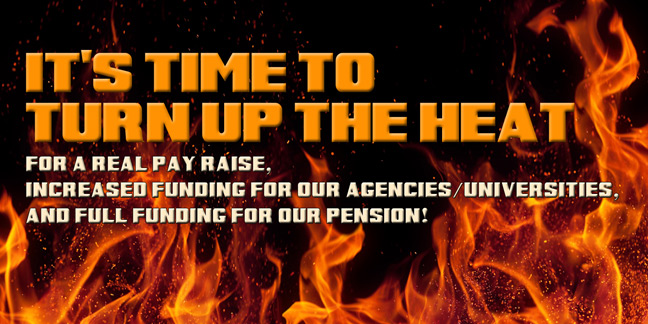 [MAY 7, 2015] In a very tough legislative session, TSEU members are leading the fight for: increased funding and staffing for our agencies and universities, an across the board pay raise, a secure pension, and affordable health care benefits! State employees and retirees have been vocal both in the capitol and across Texas by testifying in hearings, meeting with legislators, calling their offices, and flooding them with postcards. At our TSEU Lobby Day in April, over 700 state employees and retirees converged on the capitol to march, rally, and lobby lawmakers on our issues.
The end is near, but we must keep up the pressure!
Our fight continues as the session moves into the final stretch and lawmakers responsible for writing the state's budget begin meeting in Conference Committee. Now is the critical time we need to keep pushing lawmakers on our issues.
Take action by calling members of the Conference Committee (listed below) and telling them:
My name is ______________ and I'm a state employee/retiree. I'm calling to ask Representative / Senator ______________ to support a real, across-the-board-pay raise for all state workers, full funding for our pension with no benefit cuts, and increased funding for our agencies and universities. Thank you."
Central Texas:
Rep. Larry Gonzales, 512-463-0670
Sen. Charles Schwertner, 512-463-0105
East Texas:
Rep. Trent Ashby, 512-463-0508
North Texas:
Sen. Jane Nelson, 512-463-0112
South Texas:
Sen. Chuy Hinojosa, 512-463-0120
Southeast Texas:
Rep. Sarah Davis, 512-463-0389
Sen. Joan Huffman, 512-463-0117
Sen. Lois Kolkhorst, 512-463-0118
Rep. John Otto, 512-463-0570
Rep. Sylvester Turner, 512-463-0554