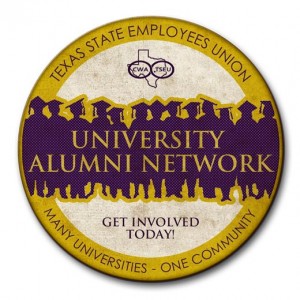 Recently, many state universities across Texas have begun to privatize and contract out thousands of university jobs, as well as lay-off and eliminate thousands more. Many TSEU members who work in these institutions have already been affected by these moves and many more will be if we don't organize and mobilize to stop them. Meanwhile, tuition for students continues to rise drastically, making a higher education out of reach for many Texas families.
TSEU is calling on university administrators to keep our public universities public by stopping plans to privatize and downsize. TSEU is also pushing state legislators to fully fund state universities so that they can provide a quality higher education that is affordable for all Texans.
If you are a graduate of a state university in Texas or if you have family members who currently attend a state university, please email shutchinson@cwa-tseu.org with your name and the name of the university you or your family member attended.
Graduates of these universities can have an impact on the decisions these universities make, and we shouldn't be shy about letting our alma maters know what we think of these recent moves. Joining the TSEU Alumni Network will keep you in the loop on any privatization efforts at your former university. See below for a complete list of all state university systems in Texas.
If you have any questions, or to join the network email shutchinson@cwa-tseu.org or complete the form below.
If you attended any of these university systems or an affiliated institution, join the TSEU Alumni Network:
University of Texas
Texas A&M
Texas State University
University of Houston
University of North Texas
Texas Women's University
Texas Tech University
Texas State Technical College
Texas Southern University
Lamar State University
Tarleton State University
Sul Ross State University
San Angelo State University
Midwestern State University
Sam Houston State University
YES! I want to join the TSEU University Alumni Network!
Fill out this form and you will be immediately enrolled in the Network: