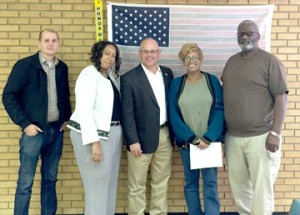 In recent months, TSEU activists in TJJD have been building steam as they get ready for an all-out push to include TJJD JCO's and Case Managers in the 20-year LECOS retirement fund. [right l-r] Union leaders Cora Bennett, Linda Brown and Demetrius Waples met recently with State Rep. Kyle Kacal (second from left) to enlist his support for the expansion of retirement benefits.
TSEU members followed that up with testimony before a hearing of the House Pensions Committee on the need to include TJJD staff in LECOSRF. That testimony led to a meeting with State Rep. Justin Rodriguez (pictured below, 3rd from the left with [l-r] Seth Hutchinson, Cora Bennett and Harrison Hiner). Rodriguez expressed strong interest in making the push. The legislative visits come on the heels of a meeting union leaders had with TJJD Executive Director David Reilly, in which the need for a 20-year retirement plan was discussed.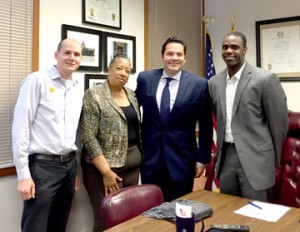 These positive signs don't mean that winning 20-year retirement in the next legislative session will be easy, however. In the last legislative session, TSEU members pushed hard for HB 1821, which would have included some TJJD staff in LECOSRF. That bill died in committee because of opposition to the additional cost of adding more employees into the fund.
TJJD employees have the highest injury rates of any state agency, including TDCJ, which has correctional officers, case managers, and even some clerical staff all included in the LECOS retirement fund. The higher injury rate in TJJD is due to the more hands-on nature of working with incarcerated youths instead of adults. Under the current retirement plan, a JCO could be required to work until they're 62 or older. The physical requirements of restraining aggressive youths put a great deal of wear and tear on an employee's body. Under the 20-year plan, an employee can retire after 20 years of service if they are at least 57.
If TSEU members are going to be successful in winning this fight, more TJJD staff are going to have to join the union and get involved. The strength of our push depends on how many members are in the union. Across the state, more and more TJJD staff are signing up and getting involved, but we have to keep up our momentum as we head into the 2017 legislative session.