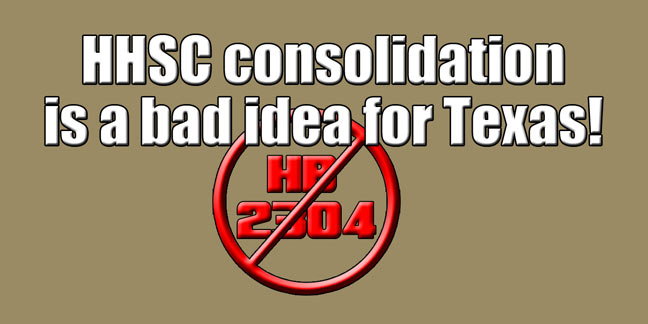 [APRIL 27, 2015]
HB 2304 filed by Four Price is based on recommendations from the Sunset Commission to abolish all 5 Human Services agencies and consolidate them into a single mega-agency. Consolidation of the human services agencies would hurt the primary missions of investigating child abuse, providing health services to people with disabilities, and other basic functions that Texans rely upon.
HHSC Consolidation will transfer significant authority to the executive commissioner, with little chance for legislators and public citizens to weigh in and provide oversight on important decisions such as privatization of services.
What the decision-makers are saying:
Supporters of consolidation tout the plans as a way to cut agency budgets by streamlining services and reducing the number of state employees. Senator Don Huffines (SD 16-Dallas) was quoted as saying "the real cost savings will be achieved through reducing the number of state employees… taxpayers are liable not only for the salaries for the tens of thousands of employees, but also for their benefits."
Last month, Gov. Gregg Abbott, in his "Strike Force" report, notes that creation of a mega-agency would create a new series of inefficiencies: A "single large bureaucracy may make HHS programs even less accessible and efficient than the current structure, even with its flaws…Full consolidation would create enormous potential problems with span of control and oversight for the executive commissioner."
WHAT TO DO NOW!
TSEU firmly believes that HHSC consolidation is a bad idea for Texans who rely on these services and for state employees.
Call members of the House Human Services Committee and tell them…
My name is ________________ I am a state employee and a member of the Texas State Employees Union. I am asking the Representative to oppose HB 2304 to consolidate agencies within HHSC. HHSC Consolidation will disrupt health services for the vulnerable Texans and will lead to less oversight over important agency decisions. Consolidation is a bad idea for Texans who rely on these services and for the state employees who provide them. Thank you.
HOUSE HUMAN SERVICES COMMITTEE
Richard Raymond 512-463-0558
Toni Rose 512-463-0664
Mark Keough 512-463-0797
Susan King 512-463-0718
Stephanie Klick 512-463-0599
Elliott Naishtat 512-463-0668
Gilbert Pena 512-463-0460
Four Price 512-463-0470
Stuart Spitzer 512-463-0458