[SUMMER 2015] The Texas Legislature passed the House plan to restore the ERS fund back to financial stability. Going into the 2015 Legislative Session, the Employee Retirement System (ERS) pension fund had $7.5 billion unfunded liability which was the result of underfunding from the Texas Legislature over the past two decades, coupled with a declining state employee workforce. To solve this problem, some lawmakers were asking state employees to put "more skin in the game" by cutting benefits and increasing costs. State employees had already endured cost increases and benefit cuts in both 2009 and 2013.
TSEU members rallied around the state, through phone call mobilizations and numerous public testimonies at the Capitol, to push for full funding of our pension plan without any cost increases or benefit cuts.
On March 10th, after significant pressure from TSEU members and allies, leaders of the House Appropriations and Pensions Committees laid out their plan to put the ERS pension fund on a path to sustainability. Among them was TSEU ally Representative Sylvester Turner (D-Houston) who strongly pushed for no cuts to benefits or pay.
The House proposal called for:
increasing the state's contribution to 9.5% of employeepay (currently at 7.5%)
increasing the employee's contribution to 9.5% of pay (currently at 6.9%) in September 2015
maintaining the agency contribution at .5% of employee pay
providing a 2.5% across-the-board pay raise for all state employees to offset the increased contribution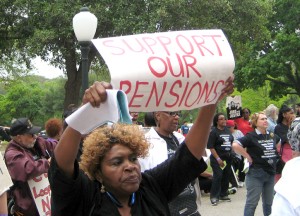 After the release of the House pension proposal, the Senate began the work of producing a counter proposal that was likely to include benefit and pay cuts. TSEU members again mobilized to call on Senators to accept the House's plan to fully fund the pension with no cuts. The Senate never publicly released their pension proposal and eventually accepted the House proposal through the passage of HB 9 by Representative  Dan Flynn (R -Van).
This victory puts the ERS pension fund on a path to financial stability without any benefit cuts or net pay cuts, making the fund actuarially sound by the 2017 Legislative Session. This also puts TSEU in a better position to win a long overdue cost-of-living increase for current retirees during the next legislative session. In order for the 91,000 state agency retirees in ERS to receive a COLA, the fund must be 100% actuarially sound. ERS retirees have not received an increase in their pension annuities since 2001.
The Teacher Retirement System (TRS) pension fund remains actuarially sound. However, legislation that would have provided a COLA for current TRS retirees failed to pass. Winning a COLA for all retirees and getting a real pay raise for active employees will be a top priority in the next session.