Back in 2015, hundreds of union members, family and supporters marched, rallied, and met with legislators  for TSEU's State Employee Lobby Day. After a noisy and energetic march and rally, teams of union members headed into the Capitol to ask for support for better pay and benefits, and quality state services. Teams completed over 120 visits with legislators or their staff. It was a long day for everybody involved, but well worth it. Decision makers need to hear from the people who make the state of Texas work!
---
On Wednesday, April 12, 2017, we're doing it again!

COME TO LOBBY DAY 2017 on WEDNESDAY, APRIL 12.  Our on-going fights for better pay and benefits along with new fights, like the current hiring freeze, will take center stage once again.  We need to send a message to our lawmakers that we will fight to restore funding for public services, to protect state employee benefits, and for a REAL pay raise.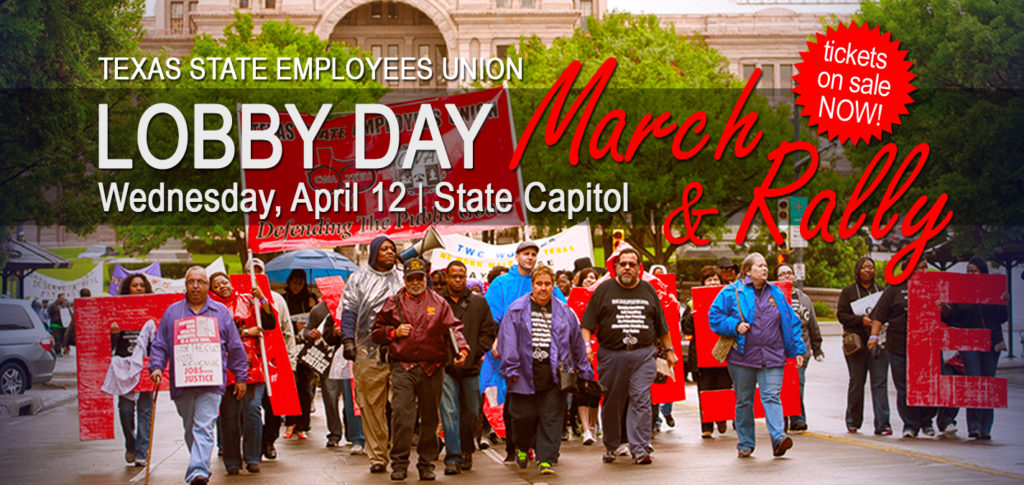 Lobby Day is our chance to take a stand for the future of Texas and for our jobs. It is a critical part of our ongoing fight for economic and social justice for state workers and citizens. We will meet at the Capitol lawn, march, rally, and then meet with our legislators and present them with our program.
On April 12th, TSEU is calling for a massive show of strength to tell the legislature that we will fight to restore funding for public services, protect state employee benefits, and win a real across-the-board raise.
EVERYTHING IS AT STAKE: our jobs, our pensions, our health care, our pay, and the services we provide. We need you to be there!
Lobby Day Schedule

OUTSIDE OF AUSTIN: Buses arriving from outside of Austin will unload at approximately 9:30am along the SOUTH side of the Capitol. Departure times will vary and can be confirmed with your local TSEU office or organizer. Bus information will be posted as routes are confirmed.

LOCAL/AUSTIN ATTENDEES: All Austin area attendees should be at the SOUTH side of the Capitol no later than 10:00am.

FULL SCHEDULE:
10:00    Meet on the SOUTH side of Capitol, lunch served
11:00    Form march contingents
11:30    Begin march around the Capitol
12:00    Begin rally
1:00    Form lobby groups
1:30    First lobby appointment
4:00    Last appointment
---
.