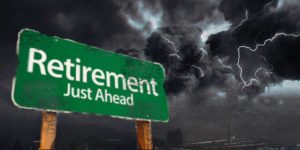 The TRS Board of Trustees voted Friday, July 27th to lower the pension's assumed rate of investment return from 8% to 7.25%, which will cause our pension fund to appear in much worse financial health than it actually is. This sets the stage for anti-pension groups to push more benefit cuts in TRS during the coming 2019 legislative session, when TRS will be forced to ask for more money from lawmakers to shore up the pension fund.
It was an extremely close 5:4 vote, divided entirely along the lines between Gov. Abbott's directly appointed Trustees (who all voted to cut the rate of return) and those elected by TRS members themselves (who all voted against the cut). Governor Abbott is up for reelection in November.
TSEU members have been organizing to protect our TRS pensions from this unnecessary devaluation since November 2017. In that time, members collected and presented hundreds of petition signatures, sent countless emails and testified at every TRS Board of Trustees meeting this year. TSEU members Aaron Bell (UTRGV), Lauren Goodley (Texas State University), Jeanne Hackett (ROC), Judy Holloway (ROC), Angie Khan (ROC), Thomas Kreneck (ROC), John St Lawrence (UT Austin), Anne Lewis (UT Austin), Angie Lopez (UT Health San Antonio), and Michael Schmidt (UT Austin) represented our concerns and addressed the Board of Trustees at numerous meetings – which resulted in delaying the vote three times.
Background on the TRS Assumed Rate of Return:
Such a drastic decline in the TRS expected rate of return will instead make the fund suddenly appear in much worse financial health than is true. In fact, it would bolster the claims of anti-pension groups that funds like TRS are heading for bankruptcy. Anti-pension groups like the John and Laura Arnold Foundation hope to push lawmakers to abandon traditional pensions like TRS in favor of DC plans. On top of making TRS appear unhealthy, lowering the expected rate of return also has the immediate effect of making it harder for TRS to provide a long overdue cost of living increase for current retirees.
What to do now:
Despite our unrelenting message, the ultimate vote indicates more than anything how necessary it is that we have true representation on the board. To do this we must grow our union and remain vigilantly involved during the next legislative session. It takes strength in numbers to have our voices heard. Ask your colleagues to join TSEU today – let's keep our momentum by building our strength!
Join online or to download a membership form TODAY
We also need to build our union's political power by joining and getting active with COPE!
Join online or to download a membership form TODAY
State elections are only three months away! We have the opportunity to elect a state legislature and governor who will increase state funding towards our pensions and health benefits – and approve a much needed cost of living pension increase for TRS retirees. We can't waste this opportunity. Contact any TSEU office to find out how you can get involved!