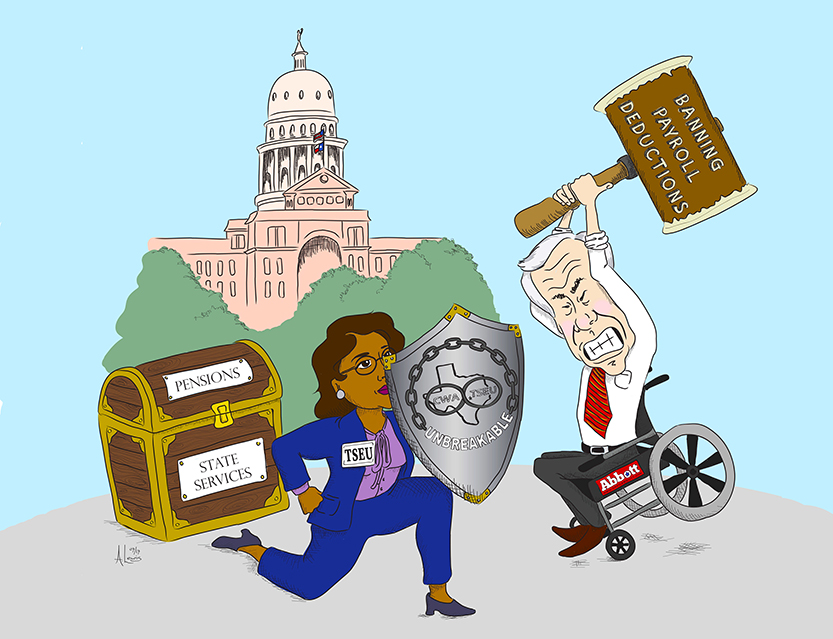 Despite vocal opposition from state employees, retirees, teachers, law enforcement, and firefighters, the Texas State Senate passed Senate Bill 7 late last night. SB 7 by Sen. Bryan Hughes would strip state employees and other Texas public servants of our right to join our union through payroll deduction.
Having our membership dues come directly out of our paychecks is the most convenient way for us to belong to our union. The backers of SB 7, including Gov. Greg Abbott and Lt. Gov. Dan Patrick, want to make it harder for public workers to have a strong, effective union.  They know that without a strong union of state workers and retirees standing up to them, state services will be left unprotected against privatization efforts and our pensions will be vulnerable to attacks.
---
.
Lock your membership in today and make our union Unbreakable
As we fight back against SB 7, we're also sending a message that our union is Unbreakable. By pre-authorizing a switch to bank draft membership in the event SB 7 passes the Texas House and is signed into law, we can keep our union strong no matter what happens.
If you have not already filled out your Unbreakable form, do it  NOW! (click image below)

.