WEDNESDAY, MARCH 9 – THE CAPITOL – AUSTIN
Supporting FPS caseload standards – Day of Action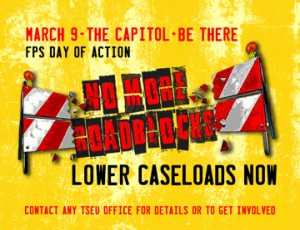 On Wednesday, March 9th, TSEU members from across Texas will be meeting at the Capitol to educate legislative staff on recent federal rulings effecting DFPS. TSEU members will be asking legislative offices to support caseload standards in every facet of DFPS. As those on the frontlines, TSEU members are saying: NO MORE ROADBLOCKS – LOWER CASELOADS NOW!
Want to attend the event OR find out about what happened? Contact your nearest TSEU office or organizer for more details.
.
.
TSEU staff and members regularly hold information tables and other events at FPS offices around the state; additionally, it's very important to get FPS worker input at local or regional meetings. We encourage all FPS/TSEU members and non-members to contact your local TSEU office or the TSEU/FPS Organizer, Myko Gedutis (713.661.9030), for more details.

back to the FPS homepage