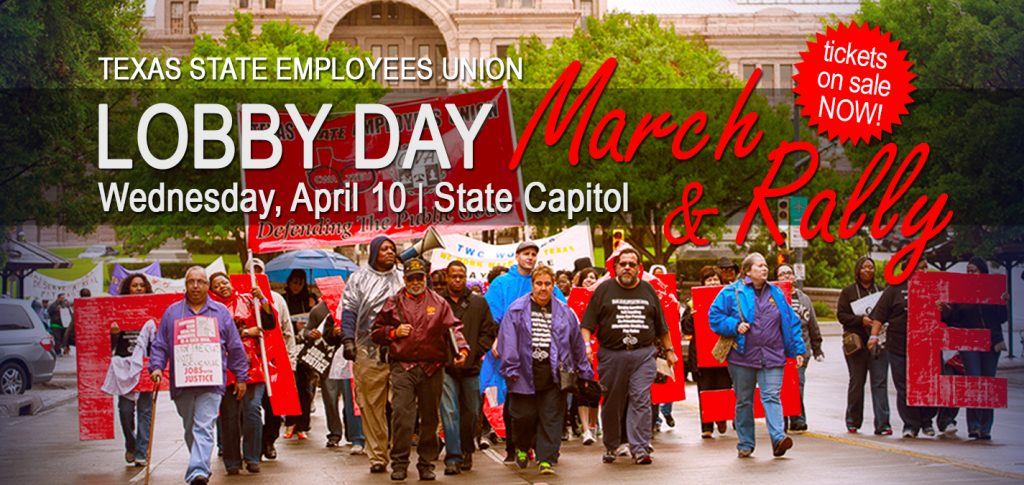 WHAT IS STATE EMPLOYEE LOBBY DAY?
Lobby Day is our chance to take a stand for the future of Texas and for our jobs. It is a critical part of our ongoing fight for economic and social justice for state workers and all Texans. We will meet at the Capitol lawn, march, rally, and then meet with our legislators and present them with our program. On Wednesday, April 10th, TSEU is calling for a massive show of strength to tell the legislature that we will fight to restore funding for public services, to protect state employee benefits and to win a real across-the-board raise. Everything is at stake: our jobs, our pensions, our health care, our pay and the services we provide. We need you to be there!
GET YOUR TICKET TODAY!
If you work in Austin, it's a little easier to be at Lobby Day; however, for those of us coming from outside of Austin, Lobby Day Buses will be available and will be departing from ALL parts of Texas!
OUT OF AUSTIN TICKET:  $20.00 – includes your registration, lunch AND bus ride to and from Austin

AUSTIN AREA TICKET: $13.00 – includes registration and lunch only (no transportation)
DOWNLOAD TICKET:
click ticket image below to download and print ticket; mail it and applicable fees to the Austin TSEU office for processing:  TSEU, ATTN: Lobby Day / 1700 South 1st Street / Austin, Tx 78704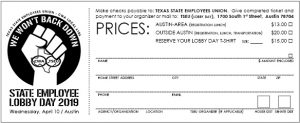 OR
PAY WITH A CREDIT CARD, through PayPal:
Please note: you don't need to have a pay pal account. Click image below to launch our registration/payment page before proceeding to PayPal.


.
---
.
After you purchase your ticket, let us and fellow TSEU members on FaceBook know you will be at the big event!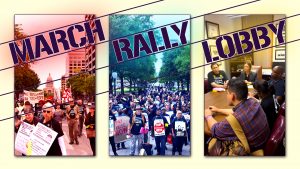 .
---
.
Take a look back at Lobby Day 2017:
lobby day17_1 from Anne Lewis on Vimeo.