WHAT IS GENERAL ASSEMBLY?
The TSEU General Assembly is a statewide meeting of elected delegates and other TSEU members and families.It is held every even-numbered year. The General Assembly considers and adopts the broad strategic plans that guide decision-making in TSEU for the next two years. These plans are generally contained within the Organizing Program and Political Program. Specific legislative goals for the upcoming session of the Texas Legislature are also contained in the Political Program. The General Assembly also makes decisions and adopts positions on various specific questions, including election of TSEU candidates for the ERS and TRS boards of trustees. All members present at the General Assembly can participate in debates, discussions, and meetings. The final vote on issues is restricted to elected delegates. The General Assembly marks the beginning of the mobilization campaign to win specific victories. The enthusiasm and determination that begins with General Assembly allows members to go back out to our cities and towns ready to do the organizing and mobilizing it takes to win. Finally, the General Assembly is the best opportunity for TSEU members from across the state to meet one another, renew friendships, and enjoy the companionship of fellow TSEU members and families.
______________________________________________________________________________
GENERAL ASSEMBLY 2014 – A LOOK BACK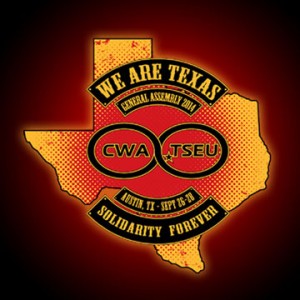 The TSEU General Assembly brings elected delegates together from every part of the state to adopt the political/legislative and organizing programs and make the decisions that will guide TSEU for the next two years. General Assembly 2014 was held in Austin on the weekend of September 26, 27, and 28.
General Assembly always begins with an action. This year, we marched at the Capitol to start our campaign for a real pay raise and against attacks on state employee health care and pensions. Assembly attendees took buses from the hotel; they, along with local TSEU members made for an impressive and LOUD showing.
A major task of General Assembly is adopting the organizing and political programs that chart a course for our campaign to defend state services and state employees. Agency caucuses also met and adopted legislative goals specific to their issues. We will send a notification when we have posted this and other General Assembly news. Delegates elected our candidate for the 2015 ERS Board of Trustees election and started planning the mobilization required to win the board seat. TSEU's candidate will be Ilesa Daniels from Houston HHSC. We need ALL TSEU MEMBERS to get involved in the nomination and election process. More information will be posted soon.
On Saturday afternoon, delegates watched video coverage of our last Lobby Day and discussed our next Lobby Day in 2015. Almost all in attendance committed to coming to Lobby Day 2015 by buying their tickets. More news about Lobby Day will be forthcoming.
At the Saturday night banquet, several awards were given for on-the-job organizing excellence. Delegates, members and guests were treated to a speech by Texas AFL-CIO President Becky Moeller, CWA District 6 Vice President Claude Cummings, and State Representative Roberto Alonzo. The Saturday Night Dance Party followed the banquet and was enjoyed by all who attended.
On Sunday, delegates took care of final business and concluded this year's General Assembly with the singing of our union's song, 'Solidarity Forever'. Thanks to all TSEU members whose participation made this one of the best General Assembly's ever!