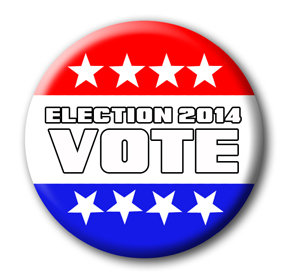 Anyone who has tuned in to any news outlet over the past few days knows that Tuesday's election was an overwhelming victory for Republicans over Democrats. For TSEU, this wasn't just a mere contest between two political parties. This was our opportunity to elect candidates we could count on to stand up for state employees and the services we provide. The majority of our TSEU-endorsed candidates suffered defeat. TSEU members all over the state put a great deal of time and diligence to interview candidates to determine if they were committed to fighting for our issues. Based on the candidate responses, union members decided which candidates would be worthy of a TSEU endorsement.
TSEU endorsed and Texas Senate allies, Wendy Davis and Leticia Van DePutte, lost their bids for Governor and Lieutenant Governor to Attorney General Gregg Abbott and Texas Senator Dan Patrick. Abbott and Patrick won by a significant margin of 20%. Other TSEU-endorsed Senate and House candidates also experienced defeats. In Fort Worth,TSEU-supported Libby Willis lost her election to replace Wendy Davis in her soon Senate seat to Tea Party-backed opponent, Konni Burton. Burton's victory shifts the balance of power even more in favor of extreme, anti-state services lawmakers. On the Texas House side, Republicans increased the size of their large majority over Democrats. Incumbent TSEU allies, Phillip Cortez (San Antonio) and Mary Ann Perez (Houston), were both beaten in an electoral upset. The 2015 Legislative Session will now consist of 20 Republicans and 11 Democrats on the Senate side, 98 Republicans and 52 Democrats on the House side, and continued Republican control of all statewide offices.
Throughout the election season, union members were out in full force, working hard to elect TSEU-endorsed candidates. TSEU knocked on over 6,800 doors, made over 2,500 phone calls, and sent 12,005 pieces of mail all in efforts to build support for our candidates. The work we did in this election cycle is a testament to our union's dedication to political activism; a dedication that does not stem from loyalty to a particular political party or candidate, but from our daily encounters with low pay, high workloads, and insufficient resources to effectively do our jobs. If there is anything to celebrate, it is our union's enduring commitment to justice and our growing ability to impact Texas Politics.
We've been here before and we've won
As a result of Tuesday night's election, the 2015 legislative session will be governed by a larger number of lawmakers who stand opposed to providing funding for living wages, secure health care and pension benefits, and quality state services. We've been in this situation before, most recently when we faced massive privatization efforts in 2003 and tens of thousands of state employee lay-offs in 2011. TSEU members will respond to the threats of today, just as we responded to the attacks of those years; by remaining true to what has carried us through the attacks on our benefits, attempts to privatize our jobs, and budget cuts to our agencies. We win on our issues year after year because we are constantly organizing more of our coworkers to build a powerful, independent voice for state employees. Legislators and election cycles will come and go, but what remains constant is TSEU's ability to win on our issues by applying grassroots pressure on elected officials, regardless of party affiliation.
In preparation for next year's legislative session, we should expect more attacks on our health care and pensions, attempts to close and privatize state facilities, and more resistance to a significant pay increase. That's why the political fight for state employees starts now. We should be talking to coworkers, asking them to join TSEU and get involved now. Anti-state worker/services legislators and political groups are making plans to undermine everything TSEU stands for in the 2015 session. They feel as if the election results give them free range to gut state services and employee benefits. We cannot let this happen! State employees organizing and mobilizing has been and will continue to be the engine that allows us to navigate any political environment, no matter how difficult or challenging it may be.